London considering new city hall building
Posted on December 30, 2019
Could a new city hall building be under construction in London in the not-too-distant future?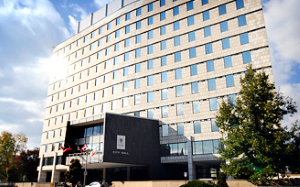 It's possible. A proposal in the City of London's 2020–2023 multi-year budget includes the option for construction of a new facility for the municipal government. Construction could occur within the decade and could cost as much as $125 million.
A business case for the city's Master Accommodation Plan looks at a series of models for accommodating city staff and delivering services to residents. At present, city officials are scattered across a number of sites in the downtown core. Most work in city hall at 300 Dufferin Avenue; others are located at sites on Dundas Street, and still others at other properties rented by the city.
According to the business case for the Master Accommodation Plan, "It has become evident that there is the opportunity to utilize space more effectively, improve capacity for future growth, as well as optimize departmental or services' proximity in order to improve the efficiency of the delivery of customer services. Customer needs, staff area features and technology have changed since the facilities were first constructed or leased. Also, many of the current facilities, including city hall, are aging, have limited flexibility and are subject to inefficient use of space."
The report goes on to say that the city has three options for dealing with its present accommodations. The first is to do nothing, although the report recommends this approach would be costly and would compromise services to residents.
The second is to keep the city hall building at Dufferin Avenue, but repurpose the building "to internal functions with an administrative focus." Meanwhile, a new project would be built in a campus environment to house all government operations.
The third option is to design and build a new structure on an alternate site "to allow for consolidation of all civic administration space with a high focus on customer service."
The new build option would see the city spend up to $13 million in consulting fees to evaluate preliminary proposals and select a site. Those costs would be incurred through 2023; the proposal sets aside $125 million for facility construction between 2024 and 2029. This option is the only one of the three that has been costed.
The case for the new-build option is made even more compelling by the fact that the current city hall building includes asbestos. The material has been used for fire separation between floors, and any renovations to the building ceiling space now require extensive temporary protections that add significant cost and complexity.
Additionally, says the report, "new accounting standards identify asbestos as financial liability… meaning that a liability will need to be recognized in the city's financial statements."
The draft budget for 2020–2023 will be up for further discussion when council reconvenes its strategic priories and policy committee on January 7.