Design selected for Michigan Interchange pedestrian bridges
Posted on January 13, 2020
The Windsor-Detroit Bridge Authority announced on January 9 that it has selected an aesthetic design for the five pedestrian bridges that will be constructed as part of the Gordie Howe International Bridge project.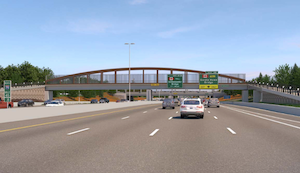 The design announcement comes after months of consultation with the community. The aesthetic was guided by a number of principles, including simplicity, openness, transparency and lightness. More than 500 votes were cast, and the preferred design received nearly half of the community votes.
"The design of the pedestrian bridges is a result of meaningful consultation with the community and other stakeholders," said Bryce Phillips, CEO of the Windsor-Detroit Bridge Authority. "The voices of community members have helped shape the project since early planning days and we will continue to engage and consult as the project progresses through construction and into the operations phase."
The five pedestrian bridges will cross Interstate 75 in Detroit at Solvay Street, Beard Street, Waterman Street, Junction Street and Lansing Street. Bridging North America, the private-sector partner that will design, build, finance, operate and maintain the Gordie Howe International Bridge project, will undertake construction of these pedestrian bridges between 2020 and 2024.
"The new pedestrian bridges will improve access to neighborhoods, businesses and service providers on both sides of I-75," said Aaron Epstein, CEO, Bridging North America. "We also see them serving as conduits for bicyclists and other recreation-seekers headed for the US Port of Entry and, ultimately, the multi-use path on the bridge."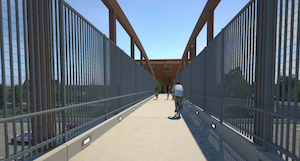 The bridge design features a curved steel arch. The walkways will be 10 feet wide, and the total height of each bridge will be 16 feet from the deck. The bridges will stand more than 17 feet above the interstate. The bridges will be constructed of pre-cast concrete girders and concrete decks, walls and ramps. The steel arch will have a medium bronze finish and the railings will be manufactured from metal alloy. The bridges will also have overhead LED lighting features, and be compliant with Americans with Disabilities Act standards.