Sault Ste. Marie transit receives $10M in funding
Posted on July 31, 2020
The federal and provincial governments have joined forced to provide more than $10 million in funding for six transit projects in Sault Ste. Marie.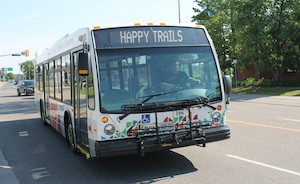 When combined with the $3.4 million being provided by the city itself, the total funding envelope is more than $13.5 million.
A large share of the money—$9.1 million—is being spent on buying 22 buses over several years to replace existing vehicles in the fleet. A further $1.6 million is being spent on replacing and upgrading fare boxes and automatic vehicle location and call-out equipment.
Some of the funding has been allocated to construction work. The city will build a new addition to its main transit building at a cost of $2 million. The new facility will provide a safe, comfortable location for riders to wait and includes a concession and public washrooms.
The city is also spending $500,000 to build a new bus transfer point in the northern part of the city, and $250,000 to replace aging bus shelters. 
"Transit is one of the most important services the City provides, and staff is continuing to work hard to provide a service that meets the needs of our ridership," said Mayor Sault Ste. Marie Christian Provenzano. "The city has a responsibility to support the movement of people throughout Sault Ste. Marie, and this support helps us meet that responsibility."
The Government of Canada is investing over $5.5 million in these projects through the Public Transit Infrastructure Stream of the Investing in Canada infrastructure plan, and the Government of Ontario is providing more than $4.5 million.