U of T Scarborough shows off plans for IC-2
Posted on June 29, 2020
Exciting times at the University of Toronto's Scarborough campus.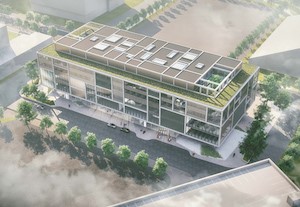 Just days after the university named the design-build proponents for its 750-bed Passive House Student Residence, it released plans for the second phase of its Instructional Centre project, or IC-2.
Building on the success of the first Instructional Centre, which was inaugurated in 2011, the second building will contain nearly 18,500 square metres of academic space, including 21 technology-enhanced classrooms and lecture halls, labs, as well as study spaces, lounges and open seating areas. One of the highlights of the facility will be a 500-seat, theatre-in-the-round auditorium, which brings students within seven rows of the lecture stand.
Many of the other classrooms will also be flexible in their arrangement allowing students to easily gather around tables to collaborate on class projects and promote engagement, says a report from the University of Toronto.  
The five-storey building will be sited at the corner of Military Trail and Pan Am Drive—which is currently a parking lot.
"This is an exciting project that will offer students more space to learn, study and connect with each other outside of the classroom," says Desmond Pouyat, Dean of Student Experience & Wellbeing at U of T Scarborough. "Not only will IC-2 enhance learning opportunities through state-of-the-art classroom design, it will also create a one-stop shop for student support services on campus, which supports U of T Scarborough's vision of inclusive excellence," Pouyat says.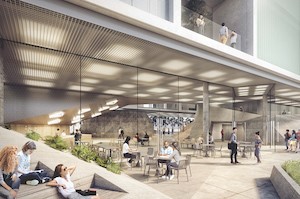 Design of the building is being performed by Toronto's ZAS Architects in conjunction with Danish firm CEBRA Architecture. The design places a heavy emphasis on glass facades to maximize the use of natural light. Doing so has also enabled the designers to incorporate a large atrium, as well as naturally lit lounges and meeting spaces, and a large green roof. The building's energy efficiency performance is expected to be 40 percent better than building industry standards. The facility is targeting LEED Gold certification, and Tier 2 of the Toronto Green Standard.
The university's aim is to make IC-2 an anchor building in the north part of the Scarborough campus.
"Our goal is to seamlessly connect the north and south parts of the campus, with our ultimate ambition converting Military Trail into a pedestrian-only boulevard that runs through the heart of the campus," says Andrew Arifuzzaman, U of T Scarborough's Chief Administrative Officer. "The stunning design of the building will make a beautiful addition to the campus, but it also serves an important purpose by enhancing access to different modes of transportation for our students, as well as providing easy access for our community visitors." 
Construction is scheduled to begin in early 2021, and the facility is expected to open in 2023.