ADP employment report shows large job losses in April
Posted on May 26, 2020
ADP Canada's latest National Employment Report shows that while employment dropped by 226,700 jobs in April, construction was largely unhurt.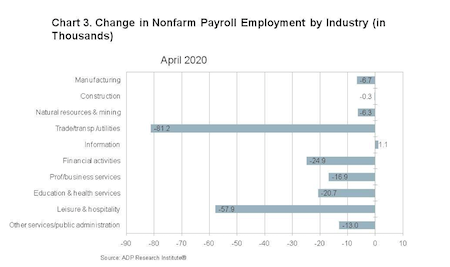 The report, which is based on actual ADP payroll data, measures the change in total nonfarm payroll employment each month on a seasonally-adjusted basis. The top-level finding in April's report is that while service-providing sectors, such as leisure and hospitality, trade and transportation, and educational services have all been hit hard by the pandemic, several other industries were able to weather the economic storm.
Construction, for example lost just 300 jobs in April, while health care employment increased by 7,000, and company management increased by 5,700.
"The labour market experienced a sharp decline in April as a result of COVID-19," said Ahu Yildirmaz, vice president and co-head of the ADP Research Institute. "The industries hardest hit by job losses were trade, leisure and hospitality, education and finance."
Highlights of the April report include:
Manufacturing: -16,700
Construction: -300
Natural Resources and Mining: -6,300
Trade/Transportation and Utilities: -81,200
Information: 1,100
Finance/Real Estate: -24,900
Professional/Business Services: -16,900
Educational Services: -27,700
Health Care: 7,000
Leisure and Hospitality: -57,900
The ADP report comes weeks after the Labour Force Survey published by Statistics Canada. In it, the national statistics agency shows a country-wide drop of nearly two million jobs in April. Those sectors most affected in the Statistics Canada report include wholesale and retail trade (-375,000), accommodation and food services (-321,000), construction (-314,000) and manufacturing (-267,000).