Cash flow crisis could be coming
Posted on May 21, 2020
The construction industry could be headed for a massive cash crunch this summer if more isn't done to give builders access to cash and credit.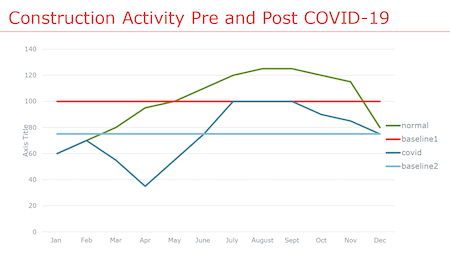 Sandra Skivsky, chair of the National Trade Contractors Coalition of Canada (NTCCC), spoke on a webinar on the future of construction after COVID that was hosted by McMillan LLP on March 14. One of the subjects she discussed in detail was the industry's absolute reliance on cash flow. She warned that site shut downs and project cancellations due to the COVID-19 pandemic will slow or all but stop the industry's cash flow at a time when it most needs liquidity.
In a normal year, construction ramps up in March or April and peaks in October or November before slowing as the year closes. Assuming that most contractors collect their receivables 60 days after work is completed, cash typically starts flowing through the industry in April and May for work started in January and February.
This year, however is anything but typical. While construction started the year at its usual pace in January and February, activity took a major hit in March and April because of project delays, lost productivity and government-mandated site shut downs. The decrease in activity—and its scheduled resumption in mid-May—means that cash flow in the industry won't start trending upwards much before the middle of July.
The challenge for many smaller contractors, said Skivsky, is that this will be the time at which they are expected to perform their highest volumes of work, and when payments for work performed in March and April come due.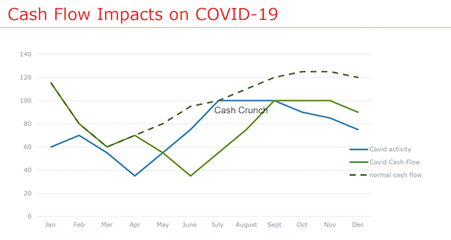 "Contractors are going to see a steep ramp-up in work at a time when their receivables are due and their cash flow is at its lowest point," she said. "That's bad news for subtrades who need money to take on new work, to hire people, to take on apprentices."
This will not be a business-as-usual situation for companies, and she hopes banks and other financiers will take into account the industry's particular challenges as companies appeal for increased credit.
"This summer and fall will be a big test for Ontario's new prompt payment regime," she added. "Increasing the velocity of money will help contractors come through this difficult period, but any hiccups in projects could spell disaster for some companies."
Ontario General Contractors Association present Clive Thurston, who also participated in the webinar, agreed with Skivsky. He suggested that the industry cannot be expected to resume its operations with the flip of a switch. Workforces have to be mobilized, supply chains restored, subtrades redeployed, and workers given the assurance that the sites they're working on remain safe.
"Our industry needs support from the banks and the government to steer us through this pandemic," he said. 
Especially concerning for Thurston is the fact that while projects have been cleared to resume construction after layoffs of as much as six weeks, some owners are refusing to give contractors any recognition for the government-mandated delays or show any willingness to compensate contractors for additional, unexpected costs.
He added that the industry is seeing more and more one-sided clauses in contracts that place the onus of dealing with the effects of the COVID-19 pandemic on the contractors. Some have even gone as far as to specifically exclude COVID-19 from among the pandemics that may influence contract terms.
"A number of owners don't care about the impact of the pandemic on the industry," he said. "They want their projects completed for the prices they were quoted six or eight months ago. The government has to step in to get rid of things like reprisal clauses and clearly define force majeure clauses so people understand what they mean and how they apply."
John Gamble, president & CEO of Association of Consulting Engineering Companies – Canada, said his concern coming out of the pandemic is how the resources of municipal governments will be stretched, and what capacity they will have remaining to tender new works.
He suggested that while larger municipalities have been largely able to weather the storm caused by the pandemic, smaller ones have all but closed their doors. If this remains the case, what capacity will these towns and cities have to apply for federal and stimulus infrastructure programs, and to tender construction projects, he asked.
"It will be critical to maintain expertise and capacity across all municipal governments so that they can bring projects to that shovel-ready status and take advantage of the dollars that flow for stimulus projects," he said.
The news across the webinar was not all bad. Mary Van Buren, president of the Canadian Construction Association, spoke about the extent to which the industry has come together to share ideas and strategies for managing workplaces and jobsites during the pandemic.
"To date, there has been no record of transmission of COVID-19 on any Canadian construction site," she said. "The industry has placed an extreme focus on health and safety during the pandemic, and that has helped instill confidence in the workforce that construction sites are safe."
Thurston agreed that going forward, construction sites will be cleaner and safer than ever before. That, he said, is down to the collective acceptance of the requirements imposed on the industry and a positive attitude of getting things done.
The webinar concluded with a look at other issued facing the industry, including the need for qualification-based procurement, the need for a stable, long-term infrastructure strategy from government, and barriers to innovation.