Province announces Highway 401 expansion in Cambridge
Posted on May 21, 2020
The Government of Ontario announced on May 20 that it will go ahead with the second phase of the expansion of Highway 401 through Cambridge.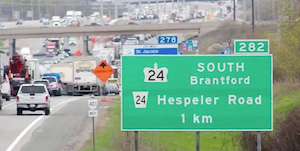 The project, which was under review by the government, was planned to begin last year. Once it is complete, it will see the road widened from six lanes to 10. The government says the initiative will relieve congestion, shorten commute times and ensure the safe and reliable movement of essential goods along the busy trade corridor.
The project is being funded jointly by the federal and provincial governments. In 2017, the Government of Canada committed to funding up to half of the eligible projects costs to a maximum of $96 million through the Building Canada Fund–Major Infrastructure Component of the Investing in Canada infrastructure plan.
"Highway 401 is a lifeline for travel and the movement of goods throughout our province and that's why we are making historic investments to expand and modernize it," said Transportation Minister Caroline Mulroney. "Together with our federal partners, we are investing in these critical infrastructure projects to drive economic growth and create jobs during these extremely difficult times."
"Investments in modern transportation infrastructure are important to building strong communities and thriving businesses," said Catherine McKenna, Minister of Infrastructure and Communities. "The widening of Highway 401 in Cambridge will make it easier and safer for Ontarians and local businesses to get to their destination. With our partners, we're building transportation networks that support a strong economy, and the safe movement of people and goods." 
The highway will be widened from six to ten lanes between Hespeler Road and Townline Road. Construction on the project, which includes High Occupancy Vehicle lanes, is expected to begin later this year. Mulroney specified that resurfacing work will start this summer, with widening work set to begin the fall. The project will also allow for high-occupancy vehicle lanes to further improve traffic.
This project is the second, and final widening project in Cambridge, and is expected to be completed in 2023. The widening of Highway 401 from Highway 8 to Hespeler Road was completed in 2019.
"Everyone in the Region of Waterloo knows how important the 401 is to our communities." said Amy Fee, MPP for Kitchener South-Hespeler. "This investment will reduce travel times and help keep goods moving through this critical trade link and improve the quality of life in our growing region."