38 projects worth $60B listed in June P3 market update
Posted on June 11, 2021
The Ontario government released its June 2021 P3 Market Update document, with only a few changes since the previous release in April.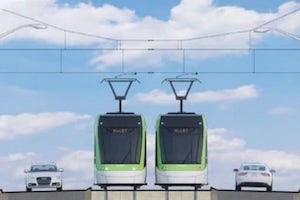 The June document lists 38 projects in various stages of procurement, including 26 in pre-procurement and 12 in active procurement. A further 14 projects are listed in the planning phase. The total estimated value of the works listed in the document is $60 billion.
The April update outlined 41 projects, also worth a combined $60 billion.
"The P3 Market Update demonstrates our government's commitment to investing in key infrastructure projects that support economic growth, community improvements and local job creation," said Infrastructure Minister Laurie Scott. "Our infrastructure investments in health care, highways and other community safety projects, especially those included in this market update, contribute to Ontario's economic renewal and long-term recovery."
The June update sees the addition of two projects: the Hamilton LRT and the Ministry of the Environment, Conservation and Parks Science Complex. Both were added to the Projects in Planning category. Meanwhile, the Brampton Courthouse Addition Phase 2 & Toronto Region Bail Centre is now in the construction stage following financial close earlier this month, as are the advance tunnel components of the Scarborough Subway Extension and the Eglinton Crosstown West Extension. Both also achieved financial close earlier this month.
"With two subway tunneling projects for the subways program closing since our April Market Update, and major healthcare projects progressing, IO continues to deliver on the government's infrastructure priorities," said Infrastructure Ontario President and CEO Michael Lindsay.
Released four times a year, the P3 Market Update lists those public projects in the pre-procurement and procurement stages for which Ontario has committed investments. The projects in the update documents are part of the government's planned infrastructure investments of more than $145 billion over the next 10 years.