Rural areas hope to get some of $2.8 billion broadband funds in Ontario budget
Posted on March 26, 2021
David Paddon, The Canadian Press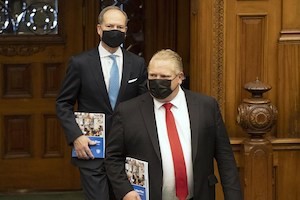 TORONTO — The Ontario budget's promise of $2.8 billion for improved broadband internet and cellular service in underserved areas has raised the hopes for many rural cities, towns and counties that are outside the province's major urban areas.
Debbie Robinson, chair of the Eastern Ontario Wardens Caucus, said Thursday that her region has applied for between $1.2 billion and $1.6 billion from various sources to connect homes, businesses and schools to ultrafast internet in places that have little or no connection at this time.
"We're looking at contributions of $200 million from the federal government and same for the provincial government," Robinson said in a phone interview from Renfrew county, west of Ottawa, where she is based. 
Robinson said the region is ready to make use of the money because it began working on its Gig Project long before the pandemic hit last year, forcing many families to work and study from home as part of public health efforts to combat the COVID-19 virus. 
"We need the funding from the province and the feds. And if we get that funding — you know, sooner rather than later — I would say probably by this time next year, we'll be able to make an announcement that better broadband is coming to Eastern Ontario."
That's in addition to roughly $300 million announced last week for a public-private project to improve cellular phone and wireless data service in the same region. About half that funding will come from Rogers, which will upgrade and build hundreds of cellphone towers for the region, and the other half is from the federal, provincial and local governments.
The Ford government's 2021 budget, the first delivered by Finance Minister Peter Bethlenfalvy, says the COVID-19 pandemic increased awareness that many rural and sparsely populated areas needed access to faster, more reliable networks for homes, schools and businesses.
It estimates that as many as 700,000 households in Ontario don't have acceptable broadband service through wireless connections and fibre optic cables.
The budget forecasts 52,000 households will benefit from the spending this year but the pace will speed up next year, so that a total of 700,000 more households have access to reliable broadband by 2025.
(C) The Canadian Press