Construction's digital maturity is 'low', says KPMG, CCA survey
Posted on May 26, 2021
A new study published jointly by the Canadian Construction Association (CCA) and KPMG reveals that when to comes to technological adoption, contractors have a long way to go to reach maturity.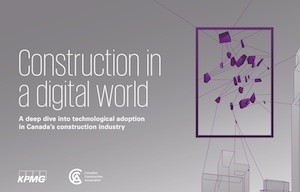 The report, entitled Construction in a digital world, finds that as many as 75 percent of surveyed construction firms rated their digital maturity as fairly low relative to their competitors. Almost three in five admit their organization "needs to moderately or considerably" adapt their digital strategy, with most unsure about which technologies and applications would offer them a competitive advantage.
Data for the report was collected via a survey in November 2020. KPMG and CCA aimed to create a benchmarking survey to determine how far along Canadian construction companies are in their digital innovation journeys. The survey looked into such concepts as the current state of digital maturity, how construction companies spend their digital investment dollars, what hiring, upskilling and building a digital team looks like, and risk management threats and concerns.
"The industry is on the cusp of digital transformation with leading firms already adopting technology – from analytics to drones, robotics, 3D printing, and augmented reality – to yield improved productivity, safety and decision-making," says CCA president Mary Van Buren. "Our survey reveals, however, that smaller and medium-sized firms are not yet capitalizing on the benefits technology can bring. For many contractors, the low bid model simply does not allow for innovation or to invest in new technologies."
While some firms have invested in digitizing their front and back-office operations to reduce redundancy, cost and improve the employee and customer experience, the report suggests there is even greater opportunity to be gained from embracing technologies, such as predictive analytics, building information modelling (BIM), digital twins, wireless monitoring and autonomous equipment, and augmented reality (AR).
The report also finds that while many companies are discussing implementing technologies around the Internet of Things, intelligent automation and big data, between 5 percent and 7 percent of those surveyed had actually implemented those technologies, and between 18 percent and 34 percent said they're not planning to implement them.
Indeed, it appears that the COVID-19 pandemic has driven a great deal of new technological advancement in the industry, with 44 percent of those surveyed saying the pandemic forced them to invest at least moderately in new technology.
The report concludes with advice: those companies embracing digital transformation will achieve greater efficiency, generate substantial productivity gains, improve onsite safety for workers, reduce the cost of goods sold, and modernize operating models.
"Digital innovation is a continuing process, not an end game," says Lorne Burns, KPMG's National Industry Leader, Building, Construction and Real Estate. "Many construction entities rely on legacy systems, and those that improve their competitive positioning will use this time as an opportunity to integrate disparate systems and adopt new ways of operating."
Too often, companies implement a technology concept or software package to reduce costs or get a quick payback on a single project only to leave the tool with that project and never use it again. This issue is compounded when a company grows through acquisitions, each with their own set of legacy technologies, the report says, pointing out the necessity of having an integrated strategic digitization strategy.