Construction underway on Ford facility in Brant County
Posted on October 14, 2021
A new Ford distribution centre is coming to Paris, Ontario.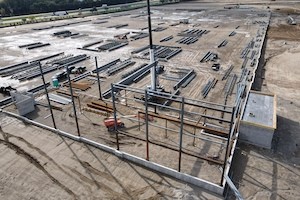 The County of Brant held an official groundbreaking ceremony to formally launch construction of the 562,000-square foot, state-of-the-art parts distribution centre at the corner of Rest Acres Road and Highway 403 on October 13.
The facility will be one of two new parts distribution centres being constructed in Ontario to replace Ford's 900,000-square-foot facility in Bramalea. The other is in Casselman, near Ottawa. Ford believes that creating two facilities will improve customer satisfaction and expedite parts delivery time to dealers.
"The County of Brant continues to search out and secure opportunities to stabilize and grow our local economy. This includes attracting and supporting small, medium and large businesses such as Ford," said Mayor David Bailey. "We want to be a place where people can live, work and play all in their own community and attracting employers such as Ford, continues the County in the right direction."
Brantford's Vicano Developments negotiated a long-term lease agreement with Ford to build and lease the new distribution centre on a 30-acre parcel of industrial land the family business owns facing Highway 403.
Construction on the building started in May 2021. Structural steel erection has begun on site. Completion of the new facility is slated for December 2022.
Featured image: Construction began in May of 2021 and completion of the new facility is slated for December 2022. (County of Brant)