Developers break ground on Vaughan 'Festival' project
Posted on October 13, 2021
Construction is underway on an ambitious development in downtown Vaughan that will also see the construction of the tallest building in the city centre.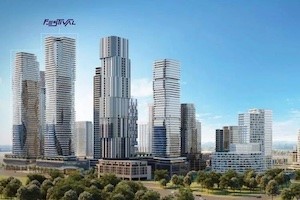 Developers Menkes Developments Ltd. and QuadReal broke ground on the Vaughan Metropolitan Centre project in early October. The development includes a tower dubbed "Festival" which, at 59 storeys, will be the largest residential building in the city.
Being developed in phases, the complete community will span 5.5 acres, and will be bordered by Highways 7, 400 and 407. Once complete, the Vaughan Metropolitan Centre will be home to more than 4,500 residents and will feature four towers and a total of 2,470 residential suites, as well as an animated central plaza that encompasses 85,000 square feet of commercial space with dining, shopping and lifestyle services.
The community will also include 2,600,000 square feet of office space and more than 4,300 square feet of retail space across 45 acres of dedicated non-residential development space.
"With our partners at QuadReal, we are committed to creating a truly urban new community in the heart of the VMC," says Alan Menkes, President, Menkes High Rise. "That meant more than just delivering places for people to live. It meant creating a fully functioning, diverse community with a mix of uses, including retail spaces, office accommodation, and compelling lifestyle options."
The developers worked with the City of Vaughan's planning staff and political leaders to ensure development plans for Festival supported municipal objectives for those living and working in one of Canada's fastest growing cities.
"This mixed-use development signifies the growing desirability of Vaughan as a destination for business and investment," said Vaughan's Mayor Maurizio Bevilacqua. "VMC contributes to a complete community by introducing a mix of residences that will improve social equity and meet the means of various groups, thereby contributing to the betterment of health with open spaces and amenity areas."
Occupancies at Festival are anticipated to begin in the fall of 2024.