National Day of Mourning, 2022
Posted on April 28, 2022
April 28 is the National Day of Mourning. It is the day that workers and employers across the country and around the world gather to remember those who lost their lives or fell ill as a result of workplace conditions or accidents, and to strengthen commitments to health and safety protection for all workers.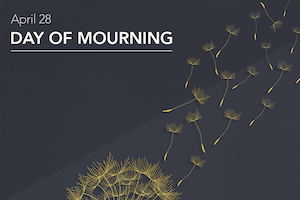 The message, "Fight for the Living, Mourn for the Dead" is carried on many worker memorials across Canada.
The latest National Work Injury, Disease and Fatality Statistics data – for 2020 – prepared by the Association of Workers' Compensation Boards of Canada, shows 921 reported fatalities in 2020. Of those, 328 were in Ontario.
By industry, construction accounted for the largest number of reported fatalities at 193, with 68 of those deaths occurring in Ontario.
Workers' groups suggest that the true numbers of job-related fatalities are dramatically underreported, and fail to reflect thousands of deaths — such as workers exempt from coverage, stress-induced suicides, commuting fatalities and occupational disease not linked back to the workplace environment.
The Canadian Union of Public Employees (CUPE) is using this year's National Day of Mourning to call attention to what it says is diminished health and safety spending in Ontario. The union says that funding to Ontario's health and safety associations dropped by approximately 17 percent between 2013 and 2020.
Ahead of the June provincial election, the union is calling for political parties to restore funding and reinvest surplus funds from the Workplace Safety and Insurance Board into occupational health programs.
"COVID-19 has fundamentally shifted how we think about health and safety at work. Despite the hard lessons learned during this pandemic, we continue to see provincial governments implement stark cuts to our first lines of defence against infectious diseases: awareness and prevention," says Harry Goslin, President of CUPE Local 1750. "Investment in occupational health and safety training results in fewer workplace injuries, fatalities, and WSIB claims."
Meanwhile, the Workers Health and Safety Centre has built its Day of Mourning messaging around the theme, "Justice Demands More". It calls for workplaces to implement superior prevention programs that protect the most vulnerable, control workplace hazards, promote physical and psychological worker well-being, implement quality health and safety training, and take precautions to safeguard workers and their occupational health and safety rights.
The centre has compiled a list of ceremonies planned to recognize the National Day of Mourning by region.