Lakeridge Health board OKs Whitby site for hospital project
Posted on January 13, 2022
Lakeridge Health has chosen a site for its new Whitby hospital.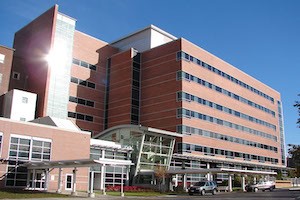 The institute's board of trustees voted on January 6 to approve an expert panel's recommendation to site the planned building on a 50-acre parcel of land south of Highway 407, west of Highway 412, east of Lake Ridge Road and north of Highway 7/Winchester Road.
The land, says Lakeridge Health, is easily accessible due to its proximity to major existing highways and roadways, as well as planned public transit.
"The identification of a site is an important step in supporting the future of health-care delivery in Durham Region," said Lakeridge Health President and CEO Cynthia Davis. "We thank the expert panel for their work, and members of the community and subject matter experts who provided their valuable input throughout this process."
The site selection process is a key part of Lakeridge Health's Master Plan, which identifies capital investments needed to meet projected demand in Durham Region over the next 25 years, including a proposed new hospital.
With the endorsement from the board under its belt, Lakeridge Health will begin discussions with the Town of Whitby on the next steps in the process, including community consultations.
Lakeridge Health will also launch discussions with the Ministry of Health for a new hospital on the basis set out in its master plan and advance the next steps in the ministry's multi-stage approval processes.
According to infrastructure Ontario's latest P3 Market Report, the project to develop Lakeridge Health's hospital in Bowmanville is expected to begin in 2024, with RFQs and RFPs for the project scheduled for next year.
No details are available for a broader package of works for Lakeridge Health, which presumably includes the Whitby project.
Featured image: Lakeridge Health's Oshawa hospital was redeveloped under a P3 model between 2009 and 2011 at a cost of $91 million. (Infrastructure Ontario)