Englobe opens new Ottawa lab
Posted on July 21, 2022
Engineering and environmental services company Englobe has announced the opening of its new construction inspection and materials testing laboratory in Ottawa. In doing so, the company says it is solidifying its role in supporting Eastern Ontario's rapidly expanding construction industry.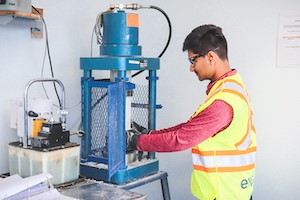 The last five years of construction in Ottawa have seen record growth. This, in turn, has resulted in an ongoing need for construction inspection, materials testing, and instrumentation and monitoring services.
Through its new 7,300-square-foot laboratory, Englobe's team of more than 75 employees in Ottawa can ensure that the construction work undertaken by its growing pool of clients is of the quality they expect.
Services offered at the new laboratory included soil and aggregate testing, hardened concrete testing, field testing on fresh concrete, field compaction testing and subgrade review for soils and aggregates, reinforcing steel inspections, geotechnical investigations and slope stability assessments, and instrumentation and vibration monitoring.
The firm also provides geotechnical consulting and peer review, legal support, and expert witness services.
In 2020–2021, Englobe says it participated in 38 of the 1,000 largest infrastructure projects in Canada as determined by reNew Canada magazine.
The company has contributed to the renovation of the Parliament buildings in Ottawa and Scarborough subway in Toronto, both of Ottawa's current LRT projects, as well as improvements to Highway 417 in Ottawa.