Black & McDonald donates $100,000 to Durham College skilled trades centre
Posted on November 22, 2022
Black & McDonald has donated $100,000 in support of Durham College's initiative to expand diversity in the skilled trades workforce.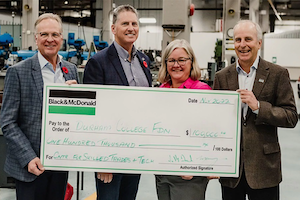 The donation will help fund Durham College's new Ontario Power Generation Centre for Skilled Trades and Technology (CSTT).
"We know that increasing the diversity of the workforce has great merit and benefit beyond the obvious increase in available tradespeople, and see that Durham College is taking steps in this direction too as they work to increase enrolment. We're delighted to support this expansion and revitalization project," said Mark Healy, regional vice president of Black & McDonald.
In support of the Centre for Skilled Trades and Technology, Durham College is raising $10 million from the community.
The expansion project will include the addition of more than 60,000 square feet of shops, labs, classrooms and student amenities at Durham College's Whitby Campus. The project will also transform pre-existing space to welcome new skilled trades talent, supporting an additional 750 students and apprentices.
"We're incredibly proud and appreciative to have Black & McDonald as a partner in our expansion plans and our outreach to demographic groups under-represented in the construction and industrial skilled trades," said Don Lovisa, president of Durham College.