Bird joins Ottawa LRT expansion project
Posted on December 24, 2019
Bird Construction has signed a subcontract to build part of Stage 2 of Ottawa's light rail project.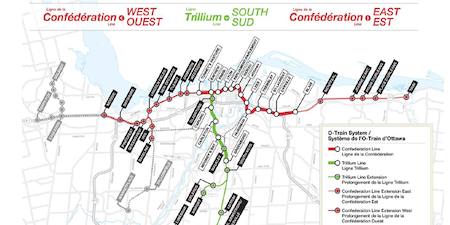 The company has entered into an agreement with East-West Connectors, the consortium contracted by the City of Ottawa to design, build and finance the Stage 2 Confederation Line Extension project. Bird will build seven of the 16 Confederation Line Stage 2 light rail transit stations and one light maintenance and storage facility. It is not yet known how much the subcontract is worth.
"Bird will celebrate its 100th year as a Canadian company in 2020 and is proud to be part of a marquis project in our Nation's Capital," said president Terrance McKibbon. "As part of our ongoing diversification strategy, Bird has developed expertise in the construction of the vertical elements of rail transit systems and this project leverages our core competencies in this market."
Stage 2 of the light rail project will extend Ottawa's O-Train network farther south, east and west. It will add 44 kilometres of new rail and 24 new stations. The $4.6-billion project is split into two smaller projects.
The Stage 2 Confederation Line extension will add approximately 27 kilometres of new rail and 16 new stations to the O-Train network. The Confederation Line will be extended farther east from Blair Station to Trim Station and farther west from Tunney's Pasture Station to Moodie Station and Baseline Station. The extension is being delivered as a design-build-finance project at a cost of $2.571 billion.
The Stage 2 Trillium Line south extension will add 16 kilometres of new rail and eight new stations, extending the O-Train network farther south from Greenboro Station to Limebank Station, with a link to the Ottawa Macdonald-Cartier International Airport. TransitNEXT will also be responsible for upgrading the existing stations as well as maintenance for the existing infrastructure and rolling stock.
The agreement with TransitNEXT for the Trillium Line Extension is a fixed-price contract worth $663 million, with SNC-Lavalin providing an additional $136 million in private capital contributions upfront. When including the long-term cost to maintain and rehabilitate both the existing Trillium Line and its new extension, the total project is valued at $1.6 billion.
East-West Connectors—which is a consortium made up of principal partners Kiewit and VINCI Group, as well as design engineers WSP Canada and Hatch Ltd.—will build and finance the Stage 2 Confederation Line East and West extensions. TransitNEXT, which is wholly owned subsidiary of SNC-Lavalin, will design, build, finance and maintain the Stage 2 Trillium Line South extension.
Substantial completion of the east extension is expected in 2024; the west extension is expected to reach the milestone in 2025.
When complete, Stage 2 will bring 77 percent of Ottawa residents within five kilometres of the city's light rail network.