Investment in building construction drops in October
Posted on December 24, 2019
Statistics Canada reported on December 23 that the total value of investment in the construction sector dropped by 0.5 percent in October to $15.5 billion. Activity increased in only four provinces and territories.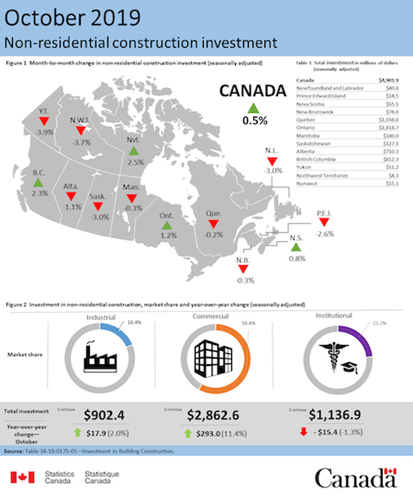 Investment in the non-residential sector was up 0.5 percent to $4.9 billion. The commercial component increased 1.1 percent to $2.9 billion, largely due to increases in Ontario (2.0 percent to $1.0 billion) and British Columbia (3.8 percent to $546.9 million). The industrial (0.3 percent to $902.4 million) and institutional (0.4 percent to $1.1 billion) components edged down in October.
Meanwhile, investment in the residential sector decreased 1.0 percent to $10.6 billion. Investment in both single (1.0 percent) and multi-unit (0.9 percent) dwellings decreased to $5.3 billion nationally. Despite the national decline, residential investment in British Columbia rose (5.3 percent to $1.9 billion) after reporting decreases in both single and multi-unit dwellings for the previous four months.
Construction investment in Ontario dropped by 1.7 percent to $6.2 billion in October. The value of residential-sector investment dropped $129.6 million (or 2.8 percent)—the first decline in four months—to $4.4 billion. Both single-family homes and multi-unit residential properties saw declines. On the other hand, the value of investments in the province's non-residential sector rose by 1.1 percent to $1.8 billion. Increases in the industrial and commercial sectors more than offset a decline in the institutional sector.