CBOC: Ottawa's economy poised for slight growth in 2019, 2020
Posted on November 07, 2019
Say what you will about Ottawa's economy – that it's unspectacular or that it's heavily dependent on public-sector growth – it's nothing if not consistent. While many other cities in the province and across the country have seen growth rates about 6 percent in recent years, these are the same cities that have also seen those years followed up with contractions.
Ottawa's economy, meanwhile, ticks along at an average growth rate of between 1.5 and 2.5 percent. It is nothing, if not consistent.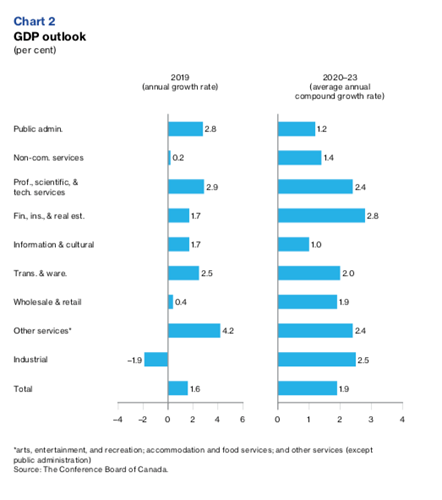 The latest projections from the Conference Board of Canada confirm as much. In its Metropolitan Outlook forecast document for Ottawa-Gatineau, the board projects GDP growth rates of 1.6 percent in 2019, and 1.9 percent in 2020.
Construction contractions forecast
Curiously, the Conference Board projects that the biggest burden on local economic growth in 2019 will be the construction sector. Where the industry had been spurred by strong demand for residential and non-residential structures from 2015 to 2018, and realized average growth rates of around 2.7 percent over that period, growth is poised to taper off in 2019. A combination of the completion of Stage 1 of the Confederation Line light rail project, as well as the collapse of the proposed redevelopment of LeBreton Flats will likely cause industry output to drop by 5.2 percent, says the board.
The good news is the pause will be brief. The Conference Board expects sectoral output to jump by 3.7 percent in 2020 as construction of Stage 2 of light rail, valued at $4.66-billion, comes online. The project will extend the north-south Trillium Line and the east-west Confederation Line, and involves the construction of 24 stations along 44 kilometres of track. Although plans for LeBreton remain in limbo, the National Capital Commission has launched a process to develop a master plan for the site. This is expected to be reviewed by Ottawa city council in 2020, and construction of a new central library building on the site to begin in 2021.
Ottawa's housing market is benefitting from a strong local economy, solid population growth and the absence of any foreign buyers' taxes. As a result, supplies of new and resale homes are tight. Home starts are expected to exceed last year's high of nearly 9,500 units, but retract to around 8,500 units in 2020, and 8,300 units by 2023.
Public sector output expected to cool
Ottawa's economy is strongly dependent on the performance of the public sector. Last year, the Government of Canada accounted for one-fifth of the city's total employment, and about 30 percent of its total GDP. Where growth in previous years averaged around 3.1 percent and employment grew to over 156,000 people, the short-term sectoral outlook is less assured.
Growth in government spending is expected to contract as the government wrestles with deficits. After advancing by 4.6 percent in 2018, output in the local public administration sector is projected to expand by 2.8 percent in 2019, and to an average rate of 1.2 percent from 2020 to 2023.
Mixed forecast for services sector
The good news for Ottawa's economy is that reduced public-service spending will be counteracted by growth in output elsewhere. The professional, scientific and technical service industry is expected to expand by 2.9 percent in 2019 and 2.3 percent in 2020. Major technology-sector players such as BlackBerry QNX, which is leading the driverless car and autonomous vehicle sector in town, and e-commerce giant Shopify are making significant contributions not only to employment and construction, but also to the growth of supporting and companion businesses.
Spending in the educational, health-care and social assistance sector is forecast to make only a small output gain of 0.7 percent in 2019 due to spending cutbacks by the provincial government. Meanwhile, retail trade output is expected to drop by 1.2 percent.
All told, says the Conference Board, "Ottawa's services sector, including public administration, will see output expand by 2.0 percent this year and 1.8 percent in 2020."