Ontario's GDP growth to slow in 2019, 2020, says Conference Board
Posted on November 06, 2019
In its latest Metropolitan Outlook forecast document, the Conference Board of Canada says it expects GDP growth in Ontario to slow to 1.4 percent in 2019, and inch up to just 1.7 percent in 2020.
A variety of factors are in play. Chief among these is a decrease in spending by the provincial government on such high-growth producing industries as education, health and social services. Also slowing down the economy will be reduced investments in the residential and non-residential construction industries.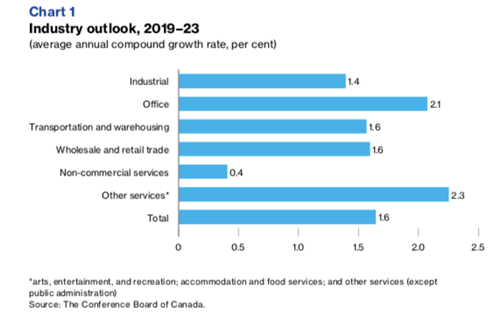 The province's residential construction sector has cooled off in recent years. This, says the report, is due in part to policies put in place by the federal and provincial governments to limit consumer demand. The Conference Board predicts housing starts will drop by 10 percent to 71,000 units across the province, with drops spread evenly across single-family homes and multi-family units. Starts are expected to rebound by 4 percent in 2020 to around 74,000 units, and to 78,000 units in each year between 2021 and 2023—due to strong population growth, pent-up demand and lower inventories of unsold units.
The news in the non-residential sector is little better. The Conference Board expects sectoral investment to drop by 3.5 percent in 2019. This, it says, is due to the completion or near completion of several large projects, including upgrades to the fibre optic networks of Telus and BCE. The outlook for 2020 is improved. Analysts expect demand for downtown office space and increased investment from the technology sector to spur construction in Toronto area. Major projects such as the $2‐billion CIBC Square, the $1.2‐billion "the Well" project, and the Gordie Howe International Bridge will further boost growth.
The outlooks for the machinery and equipment, and automotive sectors are mixed. The M&E sector is expected to grow by 2.6 percent in 2019 due in part to a $1.4 billion upgrade by Toyota to its Woodstock and Cambridge plants. Once these projects are completed, growth is expected to cool to just 0.2 percent in 2020 before rebounding to 6.4 percent through 2023 when work at the Darlington and Bruce nuclear plants, and on a $2-billion petrochemical plant in Sarnia, comes online.
In contrast, the automotive sector faces challenges. General Motors will end production at its plant in Oshawa at the end of the year, and Fiat Chrysler is reducing production at its minivan plant in Windsor. Both developments, says the report, are indicative of near-term weaknesses in Ontario's manufacturing and trade outlooks. Further complicating matter is the ongoing risk of a trade war between China and the United States, which could lead to slower growth south of the border—Ontario's largest export market.
Finally, the report expects Ontario's jobs market to continue to grow through 2019 and 2020. The challenge, however is that high rates of job growth and a low unemployment rate add up to an increasingly tightened labour market. The Conference Board predicts 1.4 percent job growth in 2020, and annual growth rates of around 1 percent through 2023. Unemployment, meanwhile, is expected to hover between 5.5 percent in 2019 and 5.2 percent by 2023.