City of Ottawa issues $630 million in permits in March
Posted on April 28, 2020
The City of Ottawa issued an unheard-of $630 million worth of permits for construction activity in March.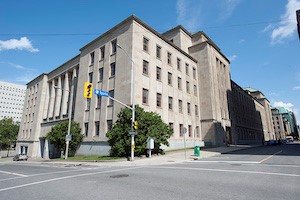 That number is the highest-ever total for a month's worth of construction in the city, and more than the totals for January and February 2020 combined. The previous record for permit activity in a month was $533 million—recorded in July 2018.
Already, the city has issued permits for more than $1.2 billion worth of construction work—more than double what it issued in permits for the first quarter of 2019.
The City of Ottawa issued eight permits worth more than $10 million each in March. By far the largest of those was the permit for additions and renovations to the West Memorial Building on Wellington Private. That permit was worth more than $176 million.
Construction work will see a team led by EllisDon Corporation completely renovate the building so it can serve as the temporary home of the Supreme Court of Canada between 2023 and 2028. The scope of work includes renovations to the building envelope, its mechanical, electrical and life-safety systems, seismic upgrades, and interior fit-ups.
Once the Supreme Court of Canada Building is rehabilitated, the West Memorial Building will be fit-up as long-term office space for future federal government occupants.
Other large-value permits issued by the city include:
$21,966,400 for interior alterations on the first and second floors of the Pharmaceutical Manufacturing building on March Road,
$30,996,287 to construct a 15-storey mixed-use and seniors' apartment residence on Baseline Road,
$62,985,661 for a structural permit for a 26-storey mixed-use building on Chapel Street, and
two permits each worth $66,578,643 to build a 17-storey apartment building with three levels of underground parking at separate addresses on Anand Private.