Libro donates $50,000 to London affordable-housing project
Posted on April 17, 2020
Development of a 35-unit affordable housing building in London has taken another step forward.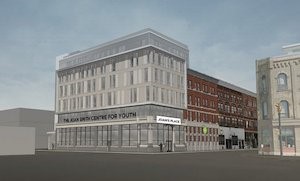 On April 15, Libro Credit Union announced a $50,000-donation to Youth Opportunities Unlimited (YOU), a non-profit in southwestern Ontario that provides services to youth.
YOU's goal is to raise $8.2 million to fund construction of Joan's Place, an affordable-housing complex that caters specifically to young mothers and their babies who are at risk of homelessness. Plans for the 26,000-square foot facility have been on the books since 2017, and the organization has now reached $6.5 million in funding.
"We have worked with YOU for many years and they are a trusted community partner," says Shane Butcher, regional manager of Libro Credit Union. "Libro's investment in YOU demonstrates the importance of stable housing and what it means now and in the long-term towards ending the cycle of poverty."
YOU aims to begin construction of Joan's Place within a couple of months, although uncertainty regarding the COVID-19 pandemic may change that timeline. The organization hopes to supplement the building, which will be located on Richmond Street, with an integrated program hub focused on primary and mental healthcare, education, employment and training, and addiction services. The building will include accessible one-bedroom and two-bedroom self-contained units as well as ancillary space for programming. The ground floor will house YOU's administrative offices and partner programming through the Youth Wellness Hub.
"In addition to finding a home, Joan's Place residents will be able to build their path to financial independence through employment programs specifically designed for youth," said YOU CEO Steve Cordes.
Libro's investment in the facility marks the latest in a series of donations to credit union has made to southwestern Ontario charities. Earlier in April, the organization announced a $320,000-donation to pandemic emergency response initiatives of local United Ways.
"We want our community to know we stay invested for the long-term," said Butcher. "We received the application for this project before the world changed. As part of our core business at Libro, community investments will continue."