Light rail among Hamilton transit task force's recommendations
Posted on April 14, 2020
Hamilton's transit task force has issued its recommendations on how to spend the $1 billion originally earmarked for the city's now-cancelled light rail project.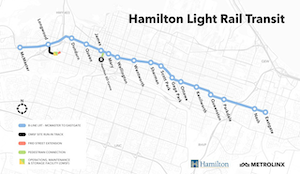 In its report to Ontario Transportation Minister Caroline Mulroney, the task force recommends the province commit the money to what it calls "higher order" transit projects—subways, streetcars or busses that operate on dedicated rights-of-way.
The group delivered its report to the minister on March 16, and the document was made public on April 9.
Specifically, the report proposes spending the billion dollars on either a new light rail line along Hamilton's B-Line, or on new bus rapid transit projects along the city's B- and A-Lines, with additional complementary projects as part of the city's BLAST transit network.
The light rail option, says the report, could include the original project scope if the province were to allocate additional capital funding. It could also take the form of a truncated version of the original proposal as a first phase of construction, with planning to create future phases.
The task force recommended that the province and Metrolinx consider both project proposals equally, and undertake further analysis to determine which project is best for Hamilton's transportation needs.
The recommendations come less than four months after the province killed the planned 14-kilometre light-rail project in the city, citing cost overruns. When the project was approved in 2014, the provincial Liberal government committed $1 billion. The Conservatives confirmed their commitment to funding the project during the 2018 election, but Mulroney said at her December cancellation announcement that the project price tag was approaching $5.5 billion.
In January, the province created the task force to offer recommendations on how to spend the funding dollars.
In a statement, Mulroney asked Metrolinx and Infrastructure Ontario to conduct a technical review of the options in the report.
"Our government remains committed to ensuring that the City of Hamilton gets the transit and transportation infrastructure it needs and deserves in order to connect people to places and jobs and ensure a seamless transit experience," she said.
Further recommendations in the task force report call for the government to act swiftly on implementing any proposals. It suggests, for example, that a contract be awarded within two years of the date of the report—March 16, 2022.
If Metrolinx and Infrastructure Ontario decide that the proposed higher-order transit projects are not feasible, the report recommends expanding GO rail service to the Hamilton Centre station to two-way, all-day service at 15-minute intervals.
The five-member task force included Liberal MP Tony Valeri, Hamilton city manager Janette Smith and LiUNA director of government relations Anthony Primerano, former Toronto Star journalist Richard Brennan, and Saiedeh Razavi, director of the McMaster University Institute for Transportation and Logistics.