MCAC letter to Prime Minister calls for support for subtrades
Posted on April 03, 2020
The Mechanical Contractors Association of Canada (MCAC) has written a letter to Prime Minister Justin Trudeau requesting specific direction from the federal and provincial governments on four points relating to subcontractors—and mechanical contractors in particular.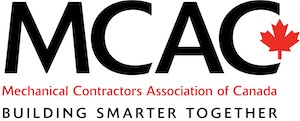 The letter from MCAC president and chair Dave Holek recommends first that the federal and provincial governments work closely with subtrade associations across the country to establish and enforce clear health and safety protocols in the context of COVID- 19.
This issue has been addressed by several industry groups, including the Canadian Construction Association, and is of paramount concern to employers and workers. Site operations in particular have been targeted, and some closed, for proper sanitation procedures.
Holek's second point: that governments recognize the COVID-19 pandemic as an event beyond contractors' control, and that any delays to project delivery be regarded as such.
The letter also calls for the federal government to support mechanical contractors by ensuring financial support for those construction firms affected site closures and any project delays as a result of the COVID-19 pandemic.
Finally, it calls for any accountability on the part of the contractor firm for COVID-19-related claims be removed.
"Given the important work our members undertake, we are committed to ensuring our workplaces and work sites remain safe for employees, customers, partners and workers," says the letter. "We have appreciated the many resources made available by public health authorities to date, but note that our members and their employees are faced with challenges on a regular basis to balance safe work protocols alongside the need to undertake work deemed vital for Canadians."
"As you can appreciate, there are significant or even disastrous consequences as a result. It is critical that the COVID-19 pandemic be recognized as outside of the control of contractors, and that any delays or damages are not placed squarely on the shoulders of our members."
As Canada's largest trade contractor association, MCAC says it is strongly supportive of the efforts being taken by government and industry to protect Canadians and Canadian businesses.