MCAC, NTCCC join the call for cost relief
Posted on April 09, 2020
Two national trade contractor groups have thrown their support behind the Canadian Construction Association's (CCA) call for the federal government to establish an emergency cost-relief program for contractors dealing with the financial implications of project shutdowns, delays, and losses of productivity as a result of the COVID-19 pandemic.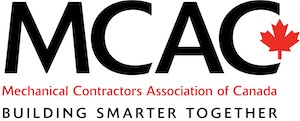 The Mechanical Contractors Association of Canada (MCAC) announced in a media release on April 7 that it has asked the federal government to provide financial support for those construction firms affected site closures and project delays.
"As with industries across Canada, the construction industry and the mechanical contracting sector have been faced with unforeseen challenges and issues arising from the COVID-19 pandemic," said MCAC President and Chair Dave Holek. "Whether it is the necessary but added costs of health and safety to protect workers, losses in productivity as we adapt to the changing requirements for job sites, or supply chain and payment problems as a result of shutdowns or delays, the COVID-19 pandemic has already proven to have far-reaching consequences. Our association supports any measures to help contractors access liquidity or financial support to help contractors work through this crisis."
MCAC sent a letter to Prime Minister Justin Trudeau on March 30 indicating some of the ways its nearly 1,000 member firms have been affected by the pandemic. In it, the association also called for financial relief for affected companies.
"The request to establish an Emergency COVID-19 Construction Cost Relief Program reinforces the fact that contractors across Canada are facing unprecedented challenges," said Holek. "We are pleased to see any efforts that will help our members through this crisis and beyond, and we look forward to working with governments at all levels to ensure our industry is fully prepared to help rebuild the Canadian economy when the dust settles on COVID-19. We are all in this together."
The National Trade Contractors Coalition of Canada (NTCCC) wrote a similar letter to the Prime Minister on April 5. In it, NTCCC Chair Sandra Skivsky called for the continued operation of construction projects of national importance during the pandemic. In order to keep working, she advised, contractors need relief from unforeseen costs.
"What is equally important to keeping any construction active during these times is assurance of financial support to account for the conditions faced by trade contractors and their workers," Skivsky wrote. "In the course of construction, disruption and delays add costs for every party throughout the construction chain, which is ultimately borne, in the case of federal projects, by taxpayers."
Trade contractors in particular are most vulnerable to escalating costs and payment pressures, says the NTCCC. They have costs that cannot be deferred, and will not be able to sustain working without financial relief.