Toronto is North America's crane capital
Posted on April 16, 2020
No city in North America has more tower cranes in the ground than Toronto.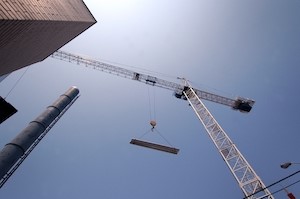 That was the finding in the latest edition of North American RLB Crane Index, a twice-annual report issued by international project management advisory firm Rider Levett Bucknall. The index tracks the number of cranes in use in 14 of North America's major cities. In doing so, it aims to provide a simplified measure of the current state of the construction industry's workload in each location.
Index cities include Boston, Calgary, Chicago, Denver, Honolulu, Las Vegas, Los Angeles, New York, Phoenix, Portland, San Francisco, Seattle, Toronto and Washington, D.C.
The first quarter crane report for 2020 shows that Toronto counts the most cranes in use among the 14 listed cities. Most are servicing residential projects, followed by mixed-use projects. Toronto accounts for 27 percent of the 455 cranes in use across the index cities. Los Angeles was second on the list, accounting for 10 percent.
The organization says that it is unable to market forecasts for the remainder of the year, given the COVID-19 pandemic, but given that residential construction that has already been started has been declared by the Ontario government to be an essential service, much of this construction activity will continue for the foreseeable future.
"Given the significant impact that COVID-19 and the governmental mitigation measures that have been applied to contain it are having on the economy as a whole, it is probable that this pandemic will drive a recession which will have an impact on future crane counts," said the report.
"Current construction projects may also be affected due to shutdowns, or workers not reporting to job sites for a variety of reasons including illness, illness of family members, or even fear of taking public transport."
Overall, seven of the cities tracked on the index reported increases in the number of cranes in use: Toronto, Calgary, Denver, Honolulu, Chicago, San Francisco and Phoenix. Five showed decreases, and three were largely unchanged.
The report also shows that the number of cranes in use in healthcare projects dropped by 33 percent across the surveyed cities, and by 50 percent on hospitality projects. Residential and mixed-use projects account for 70 percent of all cranes in use.