Waterloo Region permits hit all-time high in 2019
Posted on April 16, 2020
Construction in the Region of Waterloo hit a record high in 2019.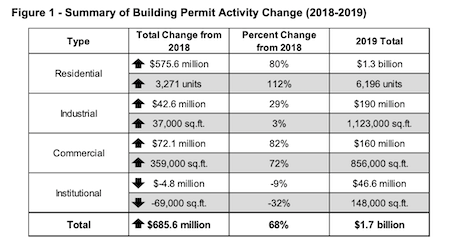 A staff report to regional council shows total permit values for the region in excess of $1.7 billion. That figure represented an increase of 68 percent from 2018's total, and 44 percent greater than the region's 10-year average. Both the residential and non-residential sectors recorded increases in values, number of permits issued and overall square footage.
Residential construction activity spurred most of the increase, says the report. The total value of permits issued for new housing construction was $1.3 billion—80 percent more than in 2019, and well above the region's 10-year average of $792 million. The region issued permits for 6,196 units, or 112 percent more than it did in 2018.
Split further, new apartment units accounted for a lion's share of the sector's increase. Permits were issued for 4,084 housing units, or about two-thirds of the total sector. Single-detached properties counted 787 units; the remainder of the residential permits were made up of townhouses (1,125 units) and semi-detached (110 units).
Demand for housing was especially strong in Woolwich (up 329 percent), Kitchener (166 percent) and Cambridge (66 percent). In all, 73 percent of the permits for new residential units were issued in the region's built-up area.
The region attributes the increases in demand for residential structures to two principal factors. The first is the completion of the ION Light Rail line, which has created density in previously underdeveloped areas of the region, and which has been encouraged by public-policy tools. A strong population growth and booming economy further helped spur demand.
The region also points to the expiry of core-area of development charge exemptions at the end of 2019, which led to a significant increase in the number of multi-residential construction projects before the end of the year.
Growth in the non-residential sector, although less pronounced, was nonetheless strong. The regional report shows a total permit value of nearly $400 million for industrial, commercial and institutional construction in 2019. That figure represented a jump of more than 38 percent from 2018's total. The value of permits in the commercial sector rose by $72.1 million to $160 million (up 82 percent). Industrial-sector permit values increased by $42.6 million to $190 million (up 29 percent), while the value of institutional permits dropped by $4.8 million to $46.6 million (down 9 percent).
The region reports that while permit values in Cambridge, Kitchener and Waterloo increased to a total of $377.6 million, non-residential construction in the four townships (North Dumfries, Wellesley, Wilmot and Woolwich) dropped.
New non-residential construction will create about 2.1 million square feet of new floor space—an increase of 18 percent compared to the previous year.
The region's top five non-residential permits by construction value include:
$90,000,000 for the Grand River Transit – Northfield Drive Facility
$22,170,000 for the Gas Light District, a new artist studio and commercial space
$20,000,000 for the shell of a new seven-storey office building
$17,950,000 for the addition of a freezer warehouse at Conestoga Cold Storage
$14,000,000 for an addition to the Fastenal Company's building