Small businesses developing innovative solutions for construction waste materials
Posted on February 14, 2020
Three Canadian companies, including GreenMantra Technologies from Brantford, have each received $1 million federal grants to develop solutions to plastic waste pollution from construction and food packaging.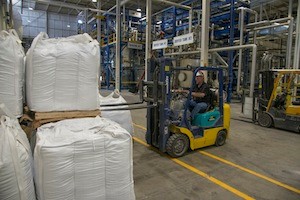 GreenMantra Technologies from Brantford, will transform polystyrene insulation waste into new insulation. Axipolymer Inc., based in Montreal, will create a recyclable multi-layer film that can be used for food packaging, and MgO Systems from Calgary will use PVC waste from construction to produce new insulating materials.
The federal grants were announced this week at GLOBE Forum 2020 in Vancouver, by Jonathan Wilkinson, Minister of Environment and Climate Change (ECCC). The three companies are winners of the Plastics Innovation Challenges sponsored by ECCC.
A release from the Canadian government points out that "Plastic pollution poses a threat to Canada's environment and our economy. Plastic ends up in landfills, litters parks and beaches, pollutes rivers, lakes, and oceans, and has harmful effects on wildlife."
Wilkinson also announced the launch of six new Plastics Challenges and three Clean Technology Challenges, through the Innovative Solutions Canada program.
These nine new Challenges call on Canadian innovators to develop solutions to:
Find sustainable alternatives to plastic packaging,
Reduce plastic waste from textiles,
Divert end-of-life vehicles' plastic from landfills,
Reduce e-waste,
Seek solutions for air purification,
Monitor microplastics in marine environments,
Recycling plastic into ceiling tiles,
Develop waste conversion techniques,
Develop energy producing window coverings.
The Challenges will be led by Environment and Climate Change Canada, the National Research Council of Canada, Shared Services Canada, and Global Affairs Canada.