28-storey condo planned for downtown Toronto
Posted on January 14, 2020
Lifetime Developments announced the capstone project to its 16-year redevelopment of Toronto's Liberty Village neighbourhood on January 7.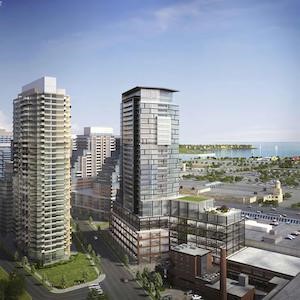 Liberty Market Tower is the third of three developments on the East Liberty Street site. The building will stand 28 storeys high and house approximately 280 condominium units. The development will feature a mix of retail, office and residential space. Commercial and retail at grade will occupy the first seven floors. The remainder of the building will be allocated for residential and amenity uses, including 12,000 square feet dedicated to such facilities as a fitness studio, entertaining rooms and business centre.
Liberty Market Tower completes the development of the six-acre Liberty Market Complex, which also features the Liberty Market Building and Liberty Market Lofts.
"From the outset, our work in Liberty Village has always been about creating a community," says Brian Brown, Principal of Lifetime Developments. "As pioneer builders of the neighbourhood, we're proud to bring this project to life through a one-of-a-kind building situated where art meets business and industrial heritage meets modern design."
Lifetime Developments has been in business for more than 40 years, and has developed several internationally recognized projects in the GTA, including Bisha Hotel and Residences, Four Seasons Hotel and Private Residences Toronto, INDX Condos, Karma Condos, The Code Condominium, The Bond Condominium, The Yorkville, WaterParkCity, Lumiere Condos, Liberty Market Lofts, Victory Condos, M5V Condominiums, Whitehaus, Panda, and recently launched XO Condos.