Posted on January 14, 2020
The City of Ottawa will soon require contractors to possess independently certified and audited occupational health and safety management systems (OHSMS).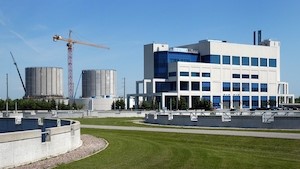 The city issued an information bulletin to the construction community on January 10. In it, the city advised that it would add the requirement to its construction contracts to further promote occupational health and safety best practices across all of its projects. The city purchases some $600 million in construction projects each year, not including major special projects such as the light rail expansion and the construction of a new central library facility.
"The City of Ottawa recognizes the importance of safe work environments and is pleased to work collaboratively with the construction industry on reinforcing current health and safety practices," said the city's director of infrastructure services, Alain Gonthier in a statement.
Leaders across Ottawa's construction community reacted strongly in favour of the city's decision.
"The Ottawa Construction Association is pleased to collaboratively work with our partners at the City of Ottawa on adopting a new requirement for contractors bidding city projects to be certified by one of a number of existing national and internationally recognized health and safety management systems," said OCA chairman Wayne Jennings.
"NCHCA encourages health and safety in all aspects of our work and supports the City of Ottawa in its efforts to promote safe work environments," said National Capital Heavy Construction Association chair Stephen Goodman.
The city has not gone so far as to specify which OHSMS contractors should adopt. It has said it will accept any of the following programs, provided contractors can prove that they have been independently certified and audited:
ISO 45001:2018,
CSA Z45001:19,
OHSAS 18001:2007 (valid until March 2021), and
COR 2020.
The OHSMS requirement in Ottawa will be implemented on a phased basis. Doing so, says the city, will provide enough time for contractors to incorporate the programs into their business plans and integrate the necessary elements into their existing health and safety programs.
Beginning January 1, 2023, all builders working on construction contracts valued at over $10 million must be certified. By 2025, the certification requirement will extend to contracts valued at over $1 million. The following year, it will extend to all contracts valued at more than $100,000 (although the city says it may amend that valuation over time).
Subcontractors will not initially be required to hold OHSMS certifications, although the city says they will be expected to adhere to the general contractor's health and safety program. The city plans to require those subcontractors wishing to work on projects valued at over $100,000 to hold OHSMS certifications by January 1, 2026.
The city has said it will hold a series of joint education and information sessions with contractors to help them achieve certification, and to provide them with any additional information on health and safety requirements being issued by the provincial government.
With this announcement, Ottawa becomes the latest in a long line of Ontario purchasers to require construction contractors to hold OHSMS certifications—such as the Certificate of Recognition (CoR) program—as conditions of contract. Organizations such as the cities of Toronto, Mississauga, Vaughan and Brampton require certification on some or all projects. As do Infrastructure Ontario, the Toronto Transit Commission and Metrolinx.
In November, Ontario's Ministry of Labour, Training and Skills Development announced that it had identified four occupational health and safety management systems that it would recognize under its accreditation program.