$113 million invested in Brampton transit
Posted on July 30, 2020
The federal and provincial governments announced more than $83 million in funding for four transit projects in Brampton on July 28.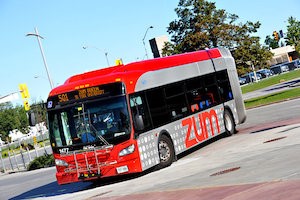 The total investment climbs to more than $113 million when combined with the $30.2 million being contributed by the City of Brampton.
More than $76 million of the funding will be spent on the city's bus fleet. The city will buy 32 conventional buses at a cost of nearly $23 million to maintain service levels and replace the retiring fleet. It will spend a further $54 million over the next four years to refurbish 300 hybrid and conventional buses to extend their service lives. On-board cameras and digital video recorders will be replaced at a cost of $5 million with newer technologies on the entire bus fleet.  
In addition, $30 million will be spent to build a new transit hub. The new facility will increase the number of bus bays in the existing terminal from seven to 16. It will also allow for a future switch to electric buses and will feature new bus canopies, an interior rider waiting area, concessions and new washroom facilities.
"As one of the fastest-growing transit systems in Canada, we must prioritize energy-efficient solutions for public transportation while supporting the thousands of riders that move across Brampton each day," said Patrick Brown, Mayor of the City of Brampton. "Through increased partnership and investment in public infrastructure, we are creating real change and building a healthier and more sustainable future for our city and our residents."
The Government of Canada is investing over $45.3 million in these projects through the Public Transit Infrastructure Stream of the Investing in Canada infrastructure plan. The Government of Ontario is contributing more than $37.8 million.
"Public transit allows Canadians to get around in cheaper, cleaner and faster ways," said federal Infrastructure and Communities Minister Catherine McKenna. "The investment in new buses and a transit hub in Brampton will improve the quality of lives for residents, get cars off the road and help electrify their transit systems. Canada's infrastructure plan invests in thousands of projects, creates jobs across the country and builds stronger communities."