Construction costs rise slightly in Q2
Posted on July 31, 2020
While the prices for residential and non-residential construction rose in the second quarter of this year, Statistics Canada suggests that further increased may be on the cards.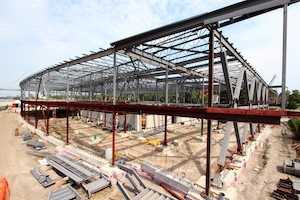 The national agency's survey of construction prices for the second quarter of the year shows increases of 0.5 percent for residential buildings and 0.1 percent for non-residential buildings. The former rose most in major cities, while the latter was constrained somewhat by lower demand for commercial construction and increased competition in the market.
Pandemic's impact still to be felt
What's uncertain is how the COVID-19 pandemic will affect prices going forward. While the pandemic wreaked havoc on building permit activity during March and April, more contractors were available to bid on what work was being tendered during that period.
Conversely, those projects that were already in the ground when the pandemic broke were likely delayed or otherwise impacted by mandated site shutdowns, supply chain disruptions and labour shortages. Productivity also suffered on existing sits as contractors and workers got used to physical distancing requirements and the need for increased site sanitization. As a result, there is likely to be a further impact on construction prices in the third quarter of the year.
Construction prices rise
Following a 0.6 percent increase in the first quarter, prices for residential building construction rose 0.5 percent in the second quarter on the resumption of building activity and the rebound in new residential building permits in May. Residential construction prices rose the most in Ottawa (+1.7 percent), Moncton and Montréal (both up 0.7 percent).
Meanwhile, the cost of non-residential building construction edged up 0.1 percent after rising by 0.6 percent in the first quarter. Ottawa (+0.8 percent) and Montréal (+0.6 percent) reported the largest increases in construction costs.
Construction costs increase the most in Ottawa and Montréal year over year 
Residential building construction costs rose 2.1 percent year over year in the second quarter, following a 2.2 percent increase in the first quarter. Non-residential building construction costs rose at a slower pace, up 1.5 percent year over year following a 1.9 percent rise in the first quarter.
Construction costs for residential buildings rose the most in Ottawa (+4.5 percent) and Montréal (+3.0 percent) year over year. Montréal (+3.0 percent) and Ottawa (+2.6 percent) also had the largest year-over-year price increases for non-residential building construction.