Fifth noose found at GTA site
Posted on July 31, 2020
The Carpenters District Council of Ontario says its Local 27 has requested and received the resignation of one of its members in connection with a noose that was found hanging at the Eglinton Crosstown LRT jobsite on July 28.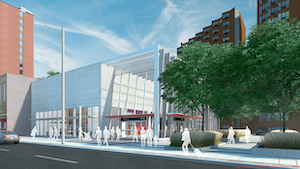 "After a review of the events that took place, severing this individual's connection and membership was the appropriate action," said a statement from the council.
"Local 27 denounces these acts in the strongest terms, and supports our industry employer colleagues in their swift removal of the individual. Behavior that makes anyone feel unsafe on construction worksites will not be tolerated, and accountability rests on everyone in the industry to create safe and respectful workplaces."
Further details of the investigation are not yet available.
The noose is the fifth found on Toronto sites in the past two months. Four others were found at three sites in June.
A spokesperson for constructors Crosslinx Transit Solutions says the noose was found on the Fairbank Station site, near the intersection of Dufferin Street and Eglinton Avenue West. The organization called the act "disgusting" and "hateful", adding that it called police to investigate as soon as the noose was discovered.
"Crosslinx stands in solidarity to condemn all racist and discriminatory actions and is committed to providing a respectful and safe working environment that is free of discrimination," the organization said in a statement.
On Twitter, Transportation Minister Caroline Mulroney condemned the incident.
"This is disgusting and unacceptable. I have spoken to the CEO @Metrolinx and the @TorontoPolice hate crime unit was called to investigate," she wrote.
Premier Doug Ford promised consequences for those found to be responsible.
"We will get to the bottom of this despicable act of hatred," he said in a tweet published Tuesday. "This will never be tolerated here in Ontario and when we find who did this, there will be consequences."
Meanhwhile, in response to the series of anti-Black racist hate crimes on construction sites, the Carpenters Union Local 27 has endorsed a Charter of Inclusive Workplaces that has been posted on jobsites across the Greater Toronto Area by union stewards and representatives.