1,000 notices—and counting!
Posted on June 29, 2020
Link2Build is pleased to announce that we sold our 1,000th legal notice on June 17.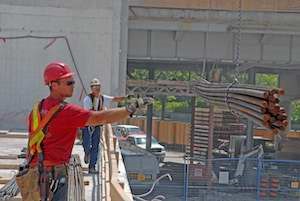 Posting that fateful form was Teranorth Construction & Engineering Limited from Sudbury. The company published a Certificate of Substantial Performance for its work on the Junction Creek Bridge Rehabilitation project in Sudbury.
In October, Link2Build launched as a service for not only construction news reporting, but also the sales of Certificates of Substantial Performance and other official notices such as Notices of Non-Payment of Holdback, Notices of Termination, Certificates of Completion of Subcontract, and Notices of Intention to Register a Condominium.
At a fee of $199 per notice—regardless of length—our rates are the lowest for publishing in the province, and the money we collect from the sales of these notices is returned to the seven local construction associations that form the Link2Build alliance.
"We have received a fabulous response from contractors across Ontario," says Martha George, president of the Grand Valley Construction Association, one of the charter members of the Link2Build group. "It is clear from the more than 1,000 certificates and notices that we have sold in the past nine months that there was an appetite for change among contractors and owners when it comes to purchasing and posting these essential notices. We are pleased to provide that new thinking and disrupt the market for this service."
"I think it is a great success story in such a short time viewed from the perspective that the industry overall is now saving millions of dollars annually in having a competitive choice for publishing certificates," says Ottawa Construction Association president John DeVries. "Our entry into the market last fall effectively lowered the cost of publishing by more than 50 percent. We also brought in greater compliance with the Construction Actby actually publishing certificates as opposed to only publishing bits of information from each certificate. Add to this our platform's best-in-market technology developed by our partner eSolutions, and you have a winning formula."
Hundreds of contractors across Ontario have used the Link2Build publishing service for their Certificates of Substantial Performance and other government notices. Two frequent users include R. W. Tomlinson Limited, an Ottawa-based civil-construction company, and Nith Valley Construction Ltd., a general contractor in New Hamburg.
"There are two main reasons we publish certificates with Link2Build," says Tim Vizena, vice-president of R. W. Tomlinson's city division. "The first is that the rates are less than half of what we paid previously. That's important given the number of projects we complete, and the number of certificates we publish annually. The second is that we're pleased to support Ontario's local construction associations. They are non-profit organizations that provide important services to contractors of all shapes and sizes across our industry."
"Why do we use Link2Build for our CSPs? It's pretty simple," explains Bob Zehr, president of Nith Valley Construction. "One, it costs less money. Two, it's faster to use than other services, which can sometimes take several days to publish certificates. Three, the service lets us notify the owner and consultants when we publish a certificate, and four, we're happy that it gives back to our local construction association."
Some have questioned whether the act of publishing a notice such as a Certificate of Substantial Performance on a website complies with the requirements described in the Construction Act. Obviously, says George, meeting that legal obligation was foremost in mind when the Link2Build group planned its service launch.
"Our legal counsel, Dan Leduc of Norton Rose Fulbright, conducted a great deal of research into this question, and offered a thoroughly researched opinion that publishing on our site meets all of the Construction Act requirements," she says. "The fact of the matter is that publishing isn't done in print only anymore. It's also done online. Times have changed."
Although we are immensely proud of the work we have done to promote our service for publishing Certificates of Substantial Performance and other government notices, there is more to Link2Build.ca. We offer a regular, daily news service that speaks to all the latest issues and trends in Ontario's construction industry. We also publish thousands of bidding opportunities annually from public- and private-sector purchasers across the province.
"We are proud of how far Link2Build has come since we launched in October," says George. "Watch this space for more exciting developments in the months to come. And thank you to all the contractors and purchasers who have supported us on our journey to 1,000 notices—and beyond!"