Building permits bounce back in May
Posted on June 30, 2020
Finally, some good news for construction.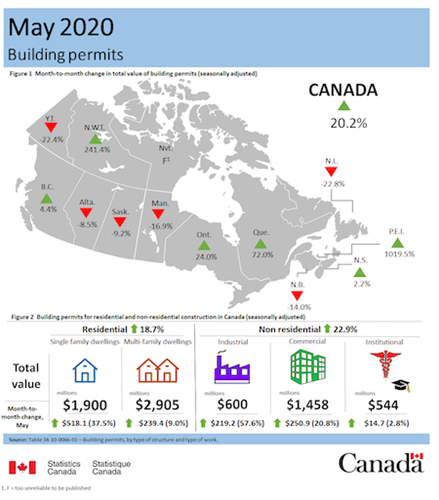 Statistics Canada reported on June 29 that the total value of building permits issued by municipalities across the country jumped by 20.2 percent to $7.4 billion.
The advance coincides with the relaxing of COVID-19 restrictions on construction activities in three provinces: Prince Edward Island, Quebec and Ontario, and comes on the heels of drops of 13.4 percent in March and 15.4 percent in April. Despite May's gains, however, the total value of permits issued for the year to date is still more than 20 percent shy of the peak it reached in January.
Prince Edward Island was the first of the three provinces to re-open construction sites fully—on May 1. Ontario followed suit with a partial re-opening on May 4, followed by a complete resumption of activity on May 19. Quebec re-opened all its sites on May 11. As a result, the largest gains in permit activity were recorded in those three provinces.
Permit values in Quebec increased by 72 percent. Ontario permit values rose by 24 percent, and PEI picked up an increase of 1,019.5 percent
The total value of residential permits increased by 18.7 percent to $4.8 billion in May. Six provinces recorded increases. The largest among them was Quebec at 53.4 percent. The value of permits in Ontario's residential sector rose by 17 percent.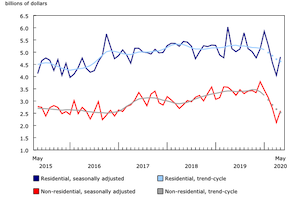 The vast majority of residential gains were attributable to increases in the value of permits for single-family homes, which rose by a record $518 million (+37.5 percent), following a drop of 34.6 percent in April. Seven provinces reported gains, led by Ontario and Quebec.
The value of permits for multi-family dwellings increased 9.0 percent to $2.9 billion.
Meanwhile, the value of non-residential construction permits jumped by nearly 23 percent nationally, and by nearly 37 percent in Ontario.
The value of commercial permits rose 20.8 percent to $1.5 billion in May, with the largest increases reported in Ontario (+26.3 percent) and Quebec (+147.8 percent). Industrial permits jumped 57.6 percent to $600 million, following a substantial decrease in April, while institutional permits posted their first gain for 2020, increasing 2.8 percent to $544 million.