COVID Alert app coming soon
Posted on June 30, 2020
The Government of Ontario expects to roll out its new COVID-19 exposure-notification application within the next two weeks.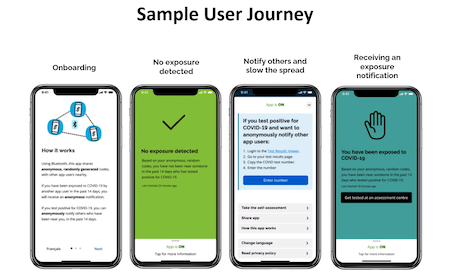 Jacob Korenblum, the senior manager of policy at the Ontario Digital Service, spoke to a League of Champions webinar of June 29 about the impending roll-out of the province's COVID Alert app, and the principles behind its design.
"The idea behind the app is to prioritize the safe return to work for folks across all sectors of Ontario's economy—all while protecting users' privacy," he said.
COVID Alert is being designed and developed by Canadian Digital Services using open source code called COVID Shield that was developed by volunteers from Ottawa-based e-commerce giant Shopify. It will be customized for use and appearance by the various provinces, and distributed for use on mobile devices through Apple's App Store and Google Play.
The app uses Bluetooth technology to capture data relating to interactions between two people. Korenblum called the interactions "digital handshakes." They are unique strings of code that capture data such as proximity between two users, duration of exposures, the number of days that have elapsed since the encounter, and the overall risk of exposure to COVID-19 in the user's province.
If a user tests positive for COVID-19 at a public health laboratory, he or she is given a code to enter into their COVID Alert app, should they choose. The app then notifies all the people whose interactions with that person that have been logged via those digital handshakes may suggest a risk for COVID-19 transmission. All notification information is anonymous.
"The factors logged in the digital handshake are combined using weighted averages," Korenblum explained. "So you're unlikely to get a notification if you were in contact with someone for a very short period of time, or if you were more than two metres away from a carrier. On the other hand, if you do get a notification, you can be confident the information is accurate."
The idea behind the app is to notify as many people as possible about their potential exposure to someone carrying COVID-19 and to enable those people to self-isolate and get tested for the virus.
The app is a marked improvement over relying on a COVID patient's memory of his or her encounters over a two-week period, and relying on public health officials to contact all those people directly.
Plus, says Korenblum, user privacy is paramount.
"One of the reasons Canada Digital Services chose the COVID Shield solution is that it is highly privacy protective," Korenblum explained. "It does not record a user's personal data or personal health information. It does not use a phone's GPS technology, and it destroys all anonymized data after 21 days."
"You will never know who you were in contact with who may be carrying COVID-19."
COVID Alert is expected to roll out across the country in early July, with updates planned as the pandemic evolves and public health guidance adjusts.