Funding announced for Northern infrastructure projects
Posted on June 29, 2020
A dozen airport, road and bridge projects in Northern Ontario will share in more than $35 million in funding from the provincial and federal governments.
The funding announcement was made on June 25.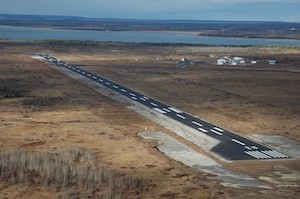 The regional airports in Gore Bay and Hornepayne will receive upgrades that include a new airport terminal, an expansion of a secondary runway, improvements to security and wildlife fencing; and repaving the runway and installing a new LED lighting system along the runway. These upgrades will reduce maintenance and service interruptions, offering passengers a higher quality service.
The Hornepayne project is funded at more than $4.8 million, while the Gore Bay project will receive $4.2 million in funding.
In the Town of Atikokan, approximately 11 kilometres of road are being improved, including three kilometres of new curbing. This project, funded at $4.5 million, will improve access to main roads for emergency responders, improving residents' safety.
"The funding announced today represents a once in a generation opportunity for the Town of Atikokan and its residents," said Dennis Brown, Mayor of the Town of Atikokan. "The completion of this paving project, in particular, the O'Brien St. reconstruction, will allow for decreased emergency response times and safer patient transfer to the airport. This program will allow for the repaving of nearly 30 percent of the town's roads."
Other projects include road improvements in Chapple, Wawa, Thessalon, Smooth Rock Falls, Nairn and Hyman, Sheshegwaning First Nation and White River. In addition, bridge repairs and replacements will create safer and more efficient driving conditions for Laird and Kapuskasing. 
"This funding allows us to move forward with the much-needed widening and resurfacing of nearly two kilometres of Old Nairn Road, a vital arterial road in our town, improving traffic flow and increasing safety and security for drivers and pedestrians," said Belinda Ketchabaw, chief administrative officer for the Township of Nairn and Hyman. "This project also supports the economic development of our community and will help our businesses grow with a safer and more reliable transportation route."
The Government of Canada is investing over $23 million in these projects through the Rural and Northern Communities Infrastructure Stream (RNIS) of the Investing in Canada infrastructure plan. The Government of Ontario is contributing more than $12 million for these important infrastructure projects in these northern communities. Municipalities and a First Nation community are contributing over $5 million in total towards the projects.