Construction investment rises in January
Posted on March 24, 2020
Statistics Canada reported on March 23 that total investment in building construction across the country rose by 0.5 percent in January to $15.6 billion.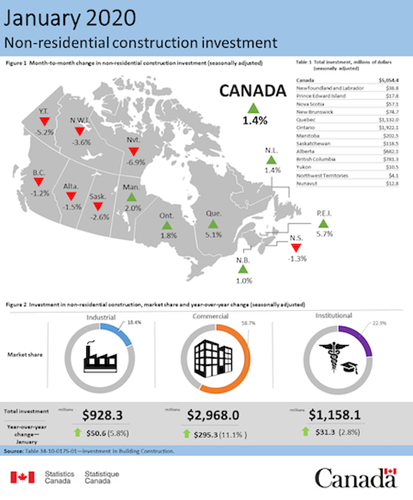 Activity in the residential sector was largely unchanged in January. Increases in Quebec (+5.5 percent to $2.3 billion), British Columbia (+0.1 percent to $1.9 billion) and Nova Scotia (+0.6 percent to $224.0 million) offset declines in the seven other provinces. Quebec led residential investment in both single-unit dwellings (+6.6 percent to $1.0 billion) and multi-unit dwellings (+4.7 percent to $1.3 billion).
Meanwhile, all three components of non-residential investment (commercial, institutional, and industrial) were up in January, rising 1.4 percent to $5.1 billion. Both Quebec (+5.1 percent to $1.1 billion) and Ontario (+1.8 percent to $1.9 billion) reported notable growth, while Alberta declined 1.5 percent to $682.1 million.
The commercial component was the largest contributor to non-residential growth, up 1.8 percent to $3.0 billion. Quebec reported the largest gains (+8.4 percent to $629.6 million), primarily due to multiple major projects, such as the National Bank head office in Montréal.
The institutional sector rose 0.9 percent to $1.2 billion. Growth in Toronto propelled Ontario up 3.8 percent to $423.8 million. Declines in British Columbia and Alberta slightly offset gains in Ontario.
The industrial component increased 0.8 percent to $928.3 million. Gains in seven provinces outweighed declines in Alberta, Manitoba, and Saskatchewan.
Overall investment in Ontario dropped slightly – from $6.33 billion in December to $6.28 billion in January. While residential-sector investment in the province slipped from $4.44 billion to $4.36 billion, investment in the non-residential sector gained ground. Ontario recorded small increases in all three sectors for total growth of about $35 million.