Construction sites to remain open
Posted on March 24, 2020
Construction, it seems, is an essential business.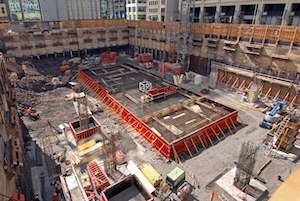 When Ontario Premier Doug Ford ordered the shut down of all non-essential businesses to further curb the spread of the COVID-19 business, many in the construction industry questioned whether that order would affect jobsites. The answer, it turned out, was no.
Several sections of the long list of businesses allowed to remain open during the pandemic specifically referred to construction sites. Section 13 addressed institutional, residential, commercial and industrial maintenance, while sections 26 through 29 touched on new builds. All will remain open—for the time being.
In his message to the province on March 23, the premier specifically addressed hygiene conditions on construction sites. He was pointed in his remarks.
"Get your act together," he said to those contractors that were failing to provide running water or disinfectant soap on their sites. "Take care of front-line construction workers. To have an outhouse overflowing in the picture I saw, it is unacceptable. 
"And if they don't do it, we will do it." 
Ford also specifically told construction workers who felt their site conditions were inadequate: "If you don't feel safe… leave the site and don't come back." 
The decision to keep sites open has been met with mixed opinions.
Toronto Mayor John Tory has specifically called for sites to close where social distancing is not possible.
The Carpenters' District Council of Ontario delivered a similar message.
"As Premier Ford announced today, the construction workers of this province should not be expected to work on jobsites where the basic safety requirements for COVID-19 are not being met," said Tony Iannuzzi, the executive secretary treasurer of the Carpenters' Union. "Those minimum standards simply do not exist on most of our jobsites now and we cannot get Ministry of Labour inspectors out to deal with problems our members are having."
Meanwhile, the Ontario Construction Consortium, a think tank that speaks to government on issues affecting both the residential and non-residential sectors, took the message a step further. In a media release on March 24, the group called for the province to review its list of essential services, and immediately shut down construction sites for 14 days.
"It makes no sense that you can't have your neighbour over for a cup of coffee yet construction sites are expected to continue operations and they can have hundreds of employees working in close proximity to each other," said Ontario Construction Consortium executive director Phil Gillies. "This is contrary to the best advice of public health officials to maintain social distancing."
Earlier in the week, the Provincial Building and Construction Trades Council of Ontario, the Construction Employers Coordinating Council of Ontario, the Council of Ontario Construction Associations and the Construction and Design Alliance of Ontario issued a joint statement calling for jobsites to be kept open. 
"With the ever-evolving situation concerning the Coronavirus also known as COVID-19, we are advising that construction worksites in the province of Ontario remain open and that the appropriate preventative measures be implemented and enforced on every construction worksite in the province," the release stated.