Elizabeth Witmer reappointed as WSIB chair
Posted on May 22, 2020
The Workplace Safety and Insurance Board announced on May 19 that it has reappointed Elizabeth Witmer as board chair for a third term. She will continue to serve in the role through December 31.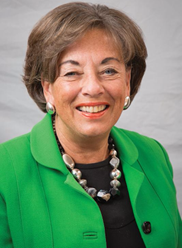 Under Witmer's tenure, the WSIB has realized a number of important accomplishments, including the elimination of its long-standing operating deficit, which peaked at $11.4 billion in 2011. Through a series of aggressive measures, the board was able to retire its unfunded liability in September 2018—almost 10 years ahead of its legislated timeline.
Since then, the board reduced employer premiums, implemented a new rate framework scheme that considers individual performances much more equitably than the previous model, and launched its follow-up to Safety Groups: the Health and Safety Excellence Program.
"Since 2012, Mrs. Witmer's exceptional leadership has guided us to the strongest financial position we have ever been in while driving for enhanced service for people suffering a workplace injury or illness," said WSIB president and CEO Tom Teahen. "She has been a driving force for recent successes including the elimination of our unfunded liability, the introduction of our new premium rate-setting model, and the expansion of our online services."
A former deputy premier of Ontario and long-serving MPP for Kitchener–Waterloo, Witmer is a passionate advocate for workplace health and safety. She has received numerous honours during her career in public service, including the Queen's Golden and Diamond Jubilee medals, the Social Work Doctors' Award.
Most recently, she received the Ontario General Contractors Association's Doug Chalmers Award for Safety in recognition of her long-time commitment to workplace health and safety.
"As we adjust to these unprecedented times, I am privileged to lead this incredible organization and the people who do so much every day to help people recover and return to work," said Witmer. "At a time when everyone is focused on health and safety, I look forward to building on our recent accomplishments and continuing our momentum."