Mississauga to resume construction
Posted on May 01, 2020
The City of Mississauga has approved a plan to resume work on 21 new essential-construction projects and continue work on eight others that carried over from 2019.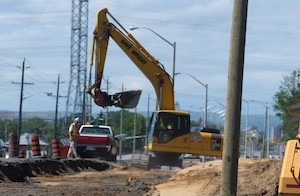 The scope of its proposed work program for this year includes road resurfacing, sidewalk and multi-use trail construction, bridge repairs, creek and erosion control work and construction of new stormwater management facilities.
"In the midst of COVID-19, it is critically important that we are able to move people and goods safely and efficiently through our city. It will also be key to our competitiveness once we restart the economy," said Mayor Bonnie Crombie. "As Mississauga continues to grow and mature, it's important that our key infrastructure be kept in good repair. Thanks to residents who are doing their part to help stop the spread of COVID-19 by staying home, our roads are experiencing lighter traffic, making this an ideal time to give them the attention they deserve while making progress on other key construction projects."
The city says that all projects are being carried out in accordance with the Ontario government's essential-services order, and that contractors will comply with applicable health and safety laws, including the Occupational Health and Safety Act and the advice and instructions of public health officials.
"The health and safety of our workers and contractors is our top priority," said Transportation and Works commissioner Geoff Wright. "We will be closely monitoring and working with our contractors to ensure that all projects operate according to the Occupational Health and Safety Act and its regulations as well as the on-site best practices recommended by public health officials."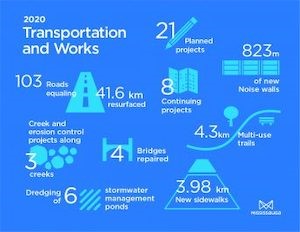 Ongoing work is also being done to maintain the city's 5,600 kilometres of roads.
Planned construction projects for 2020 include:
resurfacing 87 residential streets (29.5 kilometres),
resurfacing 16 major and industrial streets (12.1 km),
creek and erosion control work at Cooksville Creek, Mary Fix Creek and Etobicoke Creek,
construction of two new stormwater management facilities at Sandalwood Park, and Tacc Drive and Winston Churchill Boulevard, and
repairs to the Brookhurst Road bridge over Sheridan Creek, the pedestrian bridge over Central Parkway East, the Financial Drive bridge over Levi Creek, and the Lushes Avenue bridge over Sheridan Creek.
Other work includes construction of 823 m of new noise walls, 4 km of new sidewalks, and 4.3 km of new multi-use trails.