More construction projects permitted to reopen on Monday
Posted on May 01, 2020
The Government of Ontario has given the go-ahead for more construction projects to resume operations during the COVID-19 pandemic.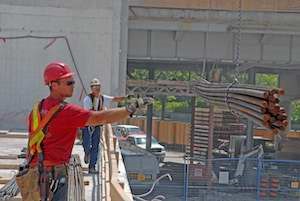 In an announcement on May 1, Premier Doug Ford indicated the province would allow a number of types of business to reopen on May 4, provided they comply with strict public-health measures and operate safely.
Among those given the green light to resume operations is an expanded list of essential construction projects. Adding to those projects that support critical infrastructure and healthcare projects are projects that support shipping and logistics; broadband, telecommunications and digital infrastructure; municipal projects; colleges and universities; child-care centres; schools; and site preparation, excavation and site servicing for institutional, commercial, industrial and residential developments.
"We are allowing certain businesses to reopen under strict guidelines because we are confident they can operate safely and adapt to the current environment," said Ford. "While further reductions in the spread are needed before we can begin reopening the province, we have the right framework and the right workplace guidelines in place to do so gradually and safely."
The news comes a day after the province released a series of more than 60 sector-specific guidelines to help employers prepare their workplaces to resume operations during the pandemic. Earlier in the week, the province released its framework for re-opening the province, which outlines the criteria Ontario's Chief Medical Officer of Health and health experts are using to advise the government on loosening emergency measures, as well as guiding principles for the safe, gradual reopening of businesses, services and public spaces.
Additional businesses that will be allowed to resume operations on May 4 include: garden centres and nurseries (provided they offer curbside pick-up and delivery only), lawn care and landscaping, automatic and self-serve car washes, and auto dealerships. The province has also given the go-ahead for golf courses to prepare their operations for the season, but not to open, and to marinas, which also may not yet open their operations to the public.
"Ontario workers and businesses have shown exemplary cooperation and resilience throughout the course of this crisis," said Minister of Economic Development, Job Creation and Trade Vic Fedeli. "We're beginning to ease restrictions on select businesses as we carefully and methodically re-open Ontario's economy and continue together on our path to renewed prosperity."
The province has hired additional workplace inspectors to ensure employers comply with new health and safety guidelines for the COVID-19 pandemic. It is also reminding Ontarians that practices such as remaining at home and practicing physical distancing continue to be key in reducing the spread of the virus.
"As we begin planning for the next phase of our fight against COVID-19, Ontarians should continue to stay home as much as possible to ensure we stop as quickly as possible the spread of this virus," said Deputy Premier and Minister of Health Christine Elliott. "While we have made tremendous progress in our shared battle against this new virus, we are not done yet. We need to keep up the fight by continuing to practise physical distancing and good hygiene habits."
The government has also said that Ontario must record a steady decrease in the number of COVID-19 cases before it will launch the next stage of reopening.