Workforce management during the COVID-19 pandemic
Posted on May 05, 2020
The COVID-19 pandemic has impacted not only the construction labour force, but also the processes around tracking and managing every contractor's most valuable asset – their people.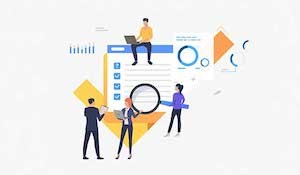 Contractors across the US and Canada are putting company policies in place based on government rules and regulations, ensuring compliance with new policies, managing communications with their teams, and shifting processes to be, by-and-large, remote.
Here are some of the impacts COVID-19 has had on workforce management, and the processes behind managing resources in this quickly changing landscape.
COVID-19's impact on workforce management
We've seen the following impacts by COVID-19 on workforce management processes across both the US and Canada (since the end of February):
People added to projects has increased by 40.7 percent
Updating employee profiles has increased by 220.3 percent
Shifting project dates has increased by 76.9 percent
Deleting allocations has increased by 33.5 percent
Updating project dates has decreased by 15.9 percent
Contractors are increasingly finding the need to reallocate their workforce as projects are deemed non-essential, shifting project dates to account for COVID-19 impacts (whether projects are deemed essential or not), and updating existing employee profiles with custom COVID-19 data (see below for a list of examples of what different contractors are tracking).
COVID-19 specific workforce management tracking
Not only has COVID-19 impacted the construction labour force, but it's also impacted the way in which contractors track their workforces. We've seen contractors begin tracking the following data (since the end of February, up until the end of April):
employees that are under quarantine or require sick leave
travel history in the last 2 weeks
employees that are COVID-19 positive, or presumptive positive
projects that are deemed as non-essential
job sites that are COVID-19 positive
Needless to say, custom project and people fields are being used in ways nobody could have predicted last year. However, this type of employee data can certainly help when adapting to sudden changes in the construction industry.
It will be interesting to see the long-term impact COVID-19 has on the processes behind workforce management and resource planning in the construction industry.
This article was written by Lauren Lake, COO and co-founder of Bridgit. It appears in its original format on the Bridgit website.