Broccolini breaks ground on Ajax Amazon facility
Posted on October 15, 2020
Construction officially kicked off on a new, 1.1-million square foot Amazon fulfillment centre in Ajax on October 9.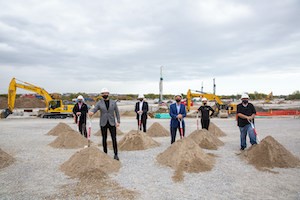 Leading the project, as it is with several high-profile buildings for the e-commerce giant, is Montreal-based builder/developer Broccolini.
"Broccolini is proud to lead this co-development with Blackwood Partners for landlord Crestpoint," said Broccolini's director of real estate James Beach. "This is the fourth built-to-suit fulfilment centre over one million square feet that Broccolini is building and developing for Amazon Canada, and we are honoured once again that our expertise is serving to build the future of Canadian business."
Located on a 58-acre site at Salem Road and Rossland Road East in the northern parcel of the GTA East Industrial Park, the building will feature a 40-foot clear height, 110 dock-level doors, and 195 trailer parking stalls. Construction is slated to be complete in 2021.  
The fulfillment centre is expected to create 1,000 jobs in Ajax. It will be used to pack and ship large customer purchases such as sports equipment, patio furniture, fishing rods, pet food, kayaks, bicycles and other household goods. 
"We are pleased to be partnering with Broccolini and Blackwood Partners for the development of the GTA East Industrial Park and thankful for the Town of Ajax's PriorityPATH which has allowed us to expedite the approval process for this exciting new project," said Kevin Leon, president and founder of Crestpoint Real Estate Investments. "We look forward to welcoming Amazon in a 1.1 million square foot state-of-the-art industrial building on the northern parcel and are eager to work with other market leading firms to build over 900,000 square feet of best-in-class facilities on our southern parcel."