Ledo Hotel in Sudbury tapped for redevelopment
Posted on October 15, 2020
A private-sector developer has plans to transform the former Ledo Hotel in downtown Sudbury into a 150,000-square foot development.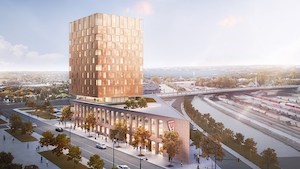 At $40 million, the plan will see the conversion of the rundown building into a 14-storey commercial complex. The developers behind the project go by the name of Le Ledo Inc. (LLI), but a spokesperson for the group says the investors behind the project will remain anonymous until the project gets approval from the municipality.
LLI has been working for a few months with an internationally recognized Canadian architecture firm on the design of the facility.
The site is bordered by Van Horne, Elgin and Shaughnessy. It will reimagine the entire property with a 150,000 sq. ft. commercial development in the Junction district with a combination of existing uses and others allowable within the commercial zoning. Such an approach would conform with the city's Official Plan and the Downtown Master Plan, LLI said. 
LLI states, "with several road networks, transit hub and infrastructure already in place, Le Ledo will do its part by making use of the central location and benefits to the city."
The existing Ledo Hotel will be kept, repurposed and integrated into the project. The design sees a continuation of a three-storey brick and glass facade across the site with a 14-storey tower above, clad in copper (a nod to the city's history) and glass.
The timing for the development proposal is good. The City of Greater Sudbury is looking to build a new public library and art gallery as part of the Junction project. It shortlisted design teams for the Junction last spring.
Additionally, the Sudbury2050 international design competition being led by the McEwen School of Architecture has attracted more than 100 entries from around the world.
"Having the design competition during our process encouraged our team knowing there will be some very compelling ideas for the public to get excited about this fall," said LLI.
A media release from LLI suggests that the project will generate significant tax revenues for the city, including $600,000 in new taxes, $225,000 in new tax for education and $90,000 in new dollars for the downtown BIA. LLI says it will also provide $150,000 to a local social services agency to help with outreach efforts.
"Le Ledo will provide a stunning backdrop to support [the city's vision for the Junction district]," said the LLI release. "LLI looks forward to working with staff, council and the private sector to realize this goal."