$4M for affordable housing projects in Sault Ste. Marie
Posted on September 04, 2020
The federal and provincial governments have advanced more than $1 million in funding for construction of new affordable housing in Sault Ste. Marie.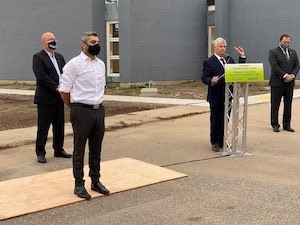 The former Rosedale Public School, located at 90 Chapelle Avenue, is being transformed into a nine-unit housing development. The finished project will include a community hub for local social services, a gymnasium, a child-care centre and an EarlyON Child and Family Centre. The building, which is adjacent to a municipal park, also includes wider halls, automatic entrance doors, and one fully accessible unit.
The funding announcement was made on September 3.
The project will be partially funded through the joint federal and provincial Investment in Affordable Housing program and Ontario Priorities Housing Initiative. Both programs give local communities the flexibility to address their local housing needs by funding new rental construction, home repairs, housing allowances, rent supplements or home ownership.
The District of Sault Ste. Marie Social Services Administration Board has estimated a total value of $6.3 million for the project, and the new housing units are expected to be occupied early in the new year.
"This investment in Sault Ste. Marie will help those in need find stable housing and access to local social services," said Ross Romano, MPP for Sault Ste. Marie. "This is an innovative and flexible solution - and I congratulate all those who have been involved with the Rosedale project for their commitment to improving the lives of others."
Sault Ste. Marie city council approved the plan to rezone the former school site in October 2019. At the time, city staff suggested the reuse of the property was a strong example of a complete neighbourhood that offers a diverse range of housing and is within walking distance to amenities such as parks and grocery stores.
"The addition of apartment units – proposed to be geared to seniors – in the converted school buildings will contribute to the availability of affordable housing in this neighbourhood," staff wrote in a report to council.
It's expected the day care will primarily serve residents in the surrounding neighbourhood and the community hub will serve as a central access point for area residents.
"This investment is helping local residents access the safe and affordable housing that meets their needs and they can afford," said Terry Sheehan MP for Sault Ste. Marie.
Also announced on September 3 was a further $2.9 million in funding from the federal and provincial governments to help build 15 housing units for Indigenous women and children in the city who are at risk of homelessness.
The development will transform the former St. Bernadette Catholic School at 462 McNabb Street into an affordable housing complex. The development is supported by the Urban Indigenous Homeward Bound program run through the Friendship Centre in Sault Ste Marie.
"This project is an example of strong partnerships coming together to support the most vulnerable and create more homes for people who need it most," said Romano. "By transforming the old St. Bernadette Catholic School into affordable housing units, our government is supporting Indigenous women and their families."