Côté mine will create 1,000 construction jobs
Posted on September 15, 2020
Ontario Premier Doug Ford and Prime Minister Justin Trudeau were on hand as IAMGOLD launched construction of its new Côté Gold Mine project in Gogama, near Timmins.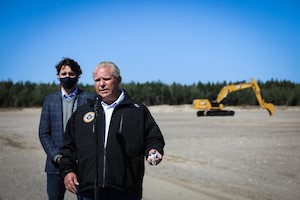 Construction of the mine is already underway, and the project is expected to create as many as 1,000 trades jobs when site preparation reaches capacity next summer. When fully operational in 2023, the mine is expected to employ 450 people and generate more than $5 billion in wages. It is also expected to contribute $10 billion to the province's gross domestic product over its 18-year life span.
"The opening of this mine is a prime example of how the Ontario government can help businesses grow and create jobs by cutting red tape and removing regulatory roadblocks, without cost to taxpayers," said Ford at the official ground-breaking ceremony.
Trudeau called the project good news for the Canadian economy.
"As the world continues to manage the impacts of COVID-19 and as we safely restart our economy, projects like this one will be vital to helping get Canadians back to work, and will continue to signal to international investors that Canada is a good place to do business," he said.
IAMGOLD is operating the Côté mine in a joint venture with Sumitomo Metal Mining. The mine, which has reserves of more than seven million ounces, is expected to produce 460,000 ounces of gold per year at a cost of about $700 per ounce in its first six years of production.
A variety of provincial government agencies worked with IAMGOLD to coordinate the environmental assessment process, review the closure plan for the mine, and move the permitting process forward. The province has said it will continue to work with the company, as well as First Nation and Métis communities, the federal government, interest groups and forest industry to reduce delays and remove regulatory barriers for permitting and approvals to help support construction of the project.
"Mining is a key driver of our provincial economy and our government is proud to support Ontario's world-class mining industry," said Greg Rickford, Minister of Energy, Northern Development and Mines; Minister of Indigenous Affairs. "The opening of Côté Gold Mine will propel economic recovery forward in the region, once again signalling to the world that Northern Ontario is open for business, jobs and investment."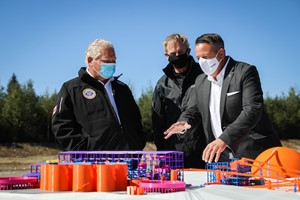 Ontario currently has 40 active mining operations, including 20 gold mines. The Côté Gold Mine and others, such as Pure Gold's Madsen Project, are expected to add to these numbers in the coming years.
The mining sector is a significant contributor to the province's economy. In 2019, the province produced $10.7 billion worth of minerals, or 22 percent of Canada's total mineral production. It employs about 71,000 people, and sustains more than 900 supply and services companies in Ontario—including more than 300 that are in Northern Ontario.
At 11 percent, the industry also employs one of the highest proportions of Indigenous workers of all provincial industries.