Choice Properties REIT, Daniels Corporation move forward with Golden Mile development
Posted on April 01, 2021
Choice Properties REIT has announced that it has selected The Daniels Corporation to move forward with the redevelopment of a Toronto shopping centre.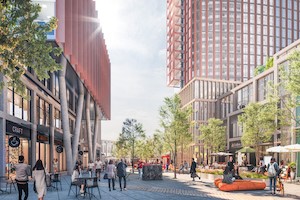 The Golden Mile Shopping Centre is a 19-acre site located at 1880 Eglinton Avenue. Its location adjacent to the new Eglinton Crosstown LRT makes the site a prime development opportunity.
"We have long recognized the importance of the Golden Mile as an opportunity to make a significant impact, not just within our 19-acres, but on the much broader aspiration to positively influence the entire area for generations today and tomorrow," said Choice Properties REIT president Rael Diamond. "The future redevelopment of these lands and the Golden Mile neighbourhood as a whole is about building a complete community. We are thrilled to partner with Daniels, a city builder that shares Choice Properties' commitment to creating healthy, resilient communities through a community-based approach to development."
The companies will transform the 67-year-old shopping centre into a mixed-use, mixed-income transit-oriented community. Phase one of the work will include two condominium towers, a purpose-built market rental building, ground floor retail uses, institutional uses and office spaces. All of these uses will surround a pedestrian mews.
Ultimately, the 280-acre Greater Golden Mile development will become home to 40,000 people over the next 20 years.
The work kicks off with the creation of what the developers are calling the Golden Mile Community Innovation District. The groups will work with several stakeholders—including community organizations and post-secondary institutions—to create a diverse site.
Among the collaborators are the University of Toronto Scarborough (UTSC) and Centennial College. UTSC in particular plans to develop a Communiversity concept through which it will work with Centennial College and community partners to augment access to post-secondary education.
The UTSC Institute for Globalization, Transnationalism and the Advancement of Resilient and Inclusive Suburbs and Economies will become a hub for studying inclusive cultural and socio-economic development.
"The University of Toronto Scarborough is excited about this dynamic opportunity to co-design and co-inhabit a mutually supportive community for the 21st century, right here in the Golden Mile," said University of Toronto Scarborough vice-president and principal Wisdom Tettey. "The Golden Mile Community Innovation District promises to be a global showcase of how to reinvent suburbs for the good of all, and our scholars and learners look forward to sharing the knowledge gained and the lessons learned with other educators and communities in Canada and around the world."
Other collaborations planned on site include a 9,000-square foot flagship BMO branch.
This Golden Mile development is the second partnership between Choice Properties and Daniels. The first is under construction at the Mount Pleasant GO Station in Brampton. That transit-oriented community is comprised of a 25-storey market rental tower, and 147 condominium suites and townhomes.