Poor state of roads costs Canadians $3B annually
Posted on April 07, 2021
The poor state of nearly half of Canada's roads is costing Canadian drivers money, says the Canadian Automobile Association (CAA).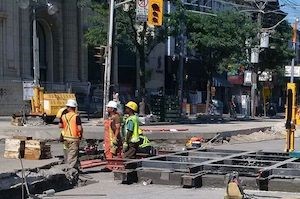 A recent report, Cost of Poor Roads in Canada, which was prepared for the association by CPCS, looks into the operating costs borne by vehicle owners as a result of poorly maintained roads.
It found that the average Canadian driver incurs an extra $126 in costs annually due to the poor quality of roads, for a total of $3 billion for all drivers in the country. That cost comes in the form of more vehicle repairs, higher maintenance costs and other operating expenses.
"Canada's roads are vital for commuters, business and connecting communities," says Ian Jack, vice-president of public affairs for CAA National. "This study shows for the first time the hidden cost to drivers of below-average roads. And it demonstrates that governments would save money in the long run if they brought roads up to – not perfection – but a good standard. That should be attainable."
"When Canadians pay higher vehicle operating costs due to poor roads, that is money they no longer have to spend on everyday wants and needs."
The study drew on self-reported data from provincial and municipal agencies, who indicated that close to half (43 percent) of Canada's more than one million kilometres of roads are rated below average. Using the most recent data available from Statistics Canada, the study calculates how much more drivers pay in maintenance and other costs when they drive on poor roads as compared to good roads.
The extra cost of poor roads per vehicle varied by province. Quebec, for example, was estimated to have the lowest quality roads. Its drivers therefore paid the highest average annual costs in the country—$258. Atlantic Canada road costs were also high at $164 in Prince Edward Island and $137 in Nova Scotia. Ontario's road stock was judged to be among the best in the country, with drivers incurring an additional $88 per year in operating expenses.
When roads are allowed to deteriorate, drivers pay twice, says CAA. They first pay through higher vehicle operating costs, and then through higher government spending on restoring roads.
"Repairing roads before they are allowed to deteriorate is a win-win proposition: it saves governments money and it saves drivers money," says Jack. "The study finds that spending one dollar on pavement preservation eliminates or delays spending $6 to $10 on costly repairs later."
Although the majority of the Canadian road network is in good or very good shape, significant parts of the system are showing their age. According to StatsCan's Core Public Infrastructure Survey, 34 percent of Canadian highways were constructed between 1970 and 1999, and a further 26 percent between 1940 and 1969. This means that more than a quarter of Canadian highway infrastructure is over half a century old.
CAA hopes to use the findings in the report to spur government action on a number of fronts. The association wants to see governments place more of an emphasis on fixing roads before they deteriorate into poor shape—or worse. It also recommends the government act swiftly to repair potholes and other deteriorations, and prioritize repairs on those roads that are heavily travelled.
It also recommends the quality of road-condition data be significantly enhanced through such methods as standardized reporting criteria, and making information available though open data portals.