PortsToronto looking for investment partner for Billy Bishop Airport
Posted on April 06, 2021
PortsToronto is looking for an investment partner.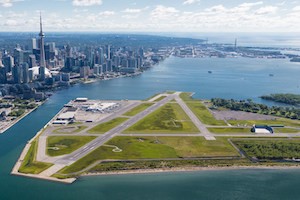 The organization announced on March 30 that it has issued a request for information to identify an investment partner for Billy Bishop Toronto City Airport. It says the exercise is among a series of options it is considering to support and redevelop the airport as an important transportation asset in Toronto's downtown.
The RFI aims to find a financial investor to operate the airport under a lease; to reduce PortsToronto's overall debt position, and restore and enhance the organization's liquidity; to enable ongoing and future infrastructure investment; and to ensure the airport's long-term viability.
"It is incumbent upon PortsToronto – as owner and operator of Billy Bishop Airport – to explore options to manage risk and enhance liquidity in a manner that allows PortsToronto to fulfil its mandate, and ensure that the airport continues to serve as an asset," said Robert Poirier, Chair, PortsToronto. "This RFI will inform a strategic evaluation of opportunities regarding the airport by effectively extending the existing and successful P3 structure we already have in place with several key concessions at the airport. Importantly, PortsToronto will remain the signatory to the Tripartite Agreement, with the City of Toronto and the federal government, and as such will retain oversight of the airport and maintain control over such areas as slots, safety and environmental sustainability." 
Should PortsToronto opt to pursue this concept further, it will issue a request for proposal later this year in consultation with the City of Toronto and the federal government including Transport Canada.
"The last year has had a profound impact on many businesses and has necessitated innovative approaches to overcome the challenges at present and in future. We believe that undertaking a process now that may provide options for PortsToronto to secure a financial investor will enable the airport to come out of the COVID-19 crisis stronger," said Geoffrey Wilson, Chief Executive Officer, PortsToronto. "We are undertaking this preliminary step to identify options that, when combined with anticipated government support, will ensure a well-funded future for Billy Bishop Airport."
Prior to the COVID-19 pandemic, Billy Bishop Airport offered service to more than 20 cities in Canada and the U.S. The airport is considered an important international gateway and a key driver to Toronto's economy, generating more than $470 million in Gross Domestic Product each year and supporting 4,740 jobs, including 2,080 directly associated with the airport operations.
Commercial service at the airport was suspended in March 2020 as a result of the COVID-19 pandemic.